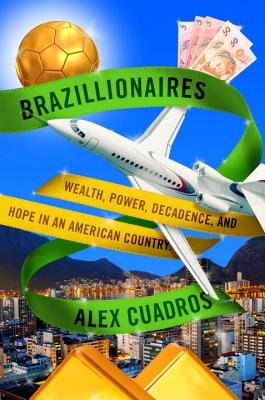 Brazillionaires (Hardcover)
Wealth, Power, Decadence, and Hope in an American Country
Spiegel & Grau, 9780812996760, 368pp.
Publication Date: July 12, 2016
Other Editions of This Title:
Digital Audiobook (7/11/2016)
* Individual store prices may vary.
Description
For readers of Michael Lewis comes an engrossing tale of a country's spectacular rise and fall, intertwined with the story of Brazil's wealthiest citizen, Eike Batista—a universal story of hubris and tragedy that uncovers the deeper meaning of this era of billionaires.

NAMED ONE OF THE BEST BOOKS OF THE YEAR BY THE FINANCIAL TIMES

When Bloomberg News invited the young American journalist Alex Cuadros to report on Brazil's emerging class of billionaires at the height of the historic Brazilian boom, he was poised to cover two of the biggest business stories of our time: how the giants of the developing world were triumphantly taking their place at the center of global capitalism, and how wealth inequality was changing societies everywhere. The billionaires of Brazil and their massive fortunes resided at the very top of their country's economic pyramid, and whether they quietly accumulated exceptional power or extravagantly displayed their decadence, they formed a potent microcosm of the world's richest .001 percent.

Eike Batista, a flamboyant and charismatic evangelist for the country's new gospel of wealth, epitomized much of this rarefied sphere: In 2012, Batista ranked as the eighth-richest person in the world, was famous for his marriage to a beauty queen, and was a fixture in the Brazilian press. His constantly repeated ambition was to become the world's richest man and to bring Brazil along with him to the top.

But by 2015, Batista was bankrupt, his son Thor had been indicted for manslaughter, and Brazil—its president facing impeachment, its provinces combating an epidemic, and its business and political class torn apart by scandal—had become a cautionary tale of a country run aground by its elites.

Over the four years Cuadros was on the billionaire beat, he reported on media moguls and televangelists, energy barons and shadowy figures from the years of military dictatorship, soy barons who lived on the outskirts of the Amazon, and new-economy billionaires spinning money from speculation. He learned just how deeply they all reached into Brazilian life. They held sway over the economy, government, media, and stewardship of the environment; they determined the spiritual fates and populated the imaginations of their countrymen. Cuadros's zealous reporting takes us from penthouses to courtrooms, from favelas to extravagant art fairs, from scenes of unimaginable wealth to desperate, massive street protests. Within a business narrative that deftly explains and dramatizes the volatility of the global economy, Cuadros offers us literary journalism with a grand sweep.

Praise for Brazillionaires

"A wild, richly reported tale about Brazil's recent economic rise and fall, and some of the biggest, most colorful characters in business in Brazil who now have a global reach. . . . Cuadros's story really takes off when he focuses on Eike Batista, an over-the-top one-time billionaire who became the country's corporate mascot, only to go bankrupt in a dramatic unraveling."—Andrew Ross Sorkin, the New York Times
 
"In this excellent book [Cuadros] has managed to use billionaires to illuminate the lives of both rich and poor Brazilians, and all those in between."—The Economist

"Brazillionaires [is] journalist Alex Cuadros's compelling tale of Brazil's superrich, which deftly weaves lurid soap opera with high finance and outrageous political skullduggery. . . . If Brazil sometimes comes across as a circus in this compelling, thoroughly researched account, it is because it can be just that."—The Wall Street Journal
About the Author
Alex Cuadros has written for The Washington Post, The New York Times, Bloomberg Businessweek, The Awl, Slate, The Nation, and Mother Jones. After six years living in São Paulo, he recently moved back to New York City.
Praise For Brazillionaires: Wealth, Power, Decadence, and Hope in an American Country…
"Brazillionaires [is] journalist Alex Cuadros's compelling tale of Brazil's superrich, which deftly weaves lurid soap opera with high finance and outrageous political skullduggery. . . . If Brazil sometimes comes across as a circus in this compelling, thoroughly researched account, it is because it can be just that."—The Wall Street Journal
 
"The rise and fall of Batista is dramatically rendered in Brazillionaires, Alex Cuadros's enjoyable, deeply reported account of Brazil's outsize collection of tycoons."—Eduardo Porter, The New York Times Book Review
 
"A clear-eyed and often funny travelogue through the operatic lives of the country's ultra-wealthy and their baneful relationship with the state . . . Ten years ago, [Brazil] was feted as a country that could do no wrong. Poverty and inequality were falling and businesses boomed. But the wheels have fallen off. The country is mired in its worst ever recession. . . . Cuadros's blend of memoir, exposé and historical narrative provides a wonderful vehicle to explain how this state of affairs was reached."—The Financial Times
 
"Riveting . . . it's a testament to Cuadros that he just doesn't cover Brazil from his desk at Bloomberg but makes a point of immersing himself in the culture of corruption, and that's what makes his book such a great, and at times hilarious, read."—New York Post
 
"Cuadros's book, far from being rendered obsolete by the political and economic crisis, has become more relevant than ever. It serves as both a playbook and a who's who for the seismic shift in power that just occurred here. . . . Brazillionaires is vital—and accessible—reading for anyone trying to decipher what just happened, and what may yet come, in Latin America's largest country. . . . Cuadros proves to have a gift for elegant and straightforward explanations of some of the most befuddling aspects of the country's politics and economics. . . . The real beneficiary however is his reader—he's just the right mix of knowledgeable insider, and arch, critical outsider, and Brazillionaires is a welcome addition to the very sparse canon of good books about Brazil."—The Globe and Mail

"A wild, richly reported tale about Brazil's recent economic rise and fall, and some of the biggest, most colorful characters in business in Brazil who now have a global reach. . . . Cuadros's story really takes off when he focuses on Eike Batista, an over-the-top one-time billionaire who became the country's corporate mascot, only to go bankrupt in a dramatic unraveling."—Andrew Ross Sorkin, the New York Times

"Well-rounded and -researched portraits of the staggering chasm between rich and poor in Brazil."—Kirkus Reviews
 
"Part memoir, part exposé, and part historical narrative, this fascinating look at wealth in Brazil is a strong debut for Cuadros. . . . Power is clearly the real impetus for the driven individuals profiled in the book. Readers will be eager to see what topic Cuadros tackles next."—Publishers Weekly

"In this excellent book he has managed to use billionaires to illuminate the lives of both rich and poor Brazilians, and all those in between."—The Economist

"There is no way to understand Brazil, the world's fifth-largest country, without understanding how a handful of billionaires shape the country's politics, media, and economy. With his profound insights and deep reporting, Alex Cuadros is an indispensable voice in telling this story of excess, corruption, and a society torn between hope and turmoil."—Glenn Greenwald, author of No Place to Hide
 
"Brazillionaires is an essential guide to understanding modern Brazil: its ups and downs, its flaws and lasting allure. But what makes it exceptional is that Cuadros uses his insights into how a particular set of exceptionally wealthy individuals in a particular historical context made money to ask a broader question: Why? What drives them? How are they different from the rest of us—or are they? This turns a unique feat of reportage into something even more fascinating: an exploration of wealth, what fuels our desire for it, and how it transforms us."—Juliana Barbassa, author of Dancing with the Devil in the City of God

"Brazil's shocking rise and even more shocking fall is one of the biggest stories of our young century. Alex Cuadros tells it through the stories of its billionaires—whose genius, hubris, and (in some cases) utter folly come through in vivid, human detail throughout this book."—Brian Winter, co-author of The Accidental President of Brazil

"Alex Cuadros has written a splendidly original book. Brazillionaires gets into the heart and soul of present-day Brazil through the fascinatingly operatic lives of its billionaires, while also explaining the country's unresolved battles in overcoming poverty, corruption, racism, and a great deal more. Written with verve, as well as a merciless eye for the truth, Brazillionaires is as engaging as it is timely."—Jon Lee Anderson, author of Che Guevara
 
"The lunatic, insular world of Brazil's ultra-rich is opened up for scrutiny in Brazillionaires. Alex Cuadros's skillful reportage and vivid prose illuminate the ideology of the some of the richest people anywhere, providing a meditation on the meaning of wealth and inequality not only in Brazil but in the United States and around the world."—Kim Phillips-Fein, author of Invisible Hands
 
"Brazillionaires should be required reading for anyone seeking to understand Brazil's one percent: the billionaires who wield so much influence in Latin America's richest country. Cuadros, a diligent and gifted reporter, does not shy away from asking tough questions as he digs deep into the country's economic and social history to chronicle how these outback entrepreneurs got rich in the first place, and how they continue to support the culture of corruption that has led to Brazil's most recent implosion. Once I started reading, I couldn't stop."—Isabel Vincent, author of Gilded Lily
 
"Not only does Brazillionaires provide a perceptive and entertaining look into the rarified world of Brazil's super wealthy elite, it also opens a window of insight into an utterly bewitching land of stark contrasts and colossal dimensions. From the grit of the Amazon rainforest to the lilting laughter of cocktail parties in the penthouse condos of São Paulo, Alex Cuadros brings all his journalistic and storytelling talents to bear in this important and highly readable book."—Scott Wallace, author of The Unconquered
Coverage from NPR
or
Not Currently Available for Direct Purchase