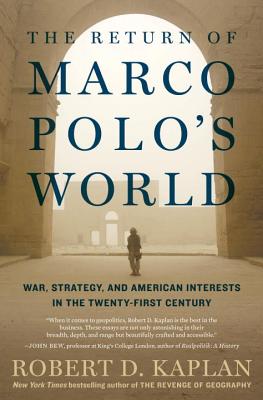 The Return of Marco Polo's World: War, Strategy, and American Interests in the Twenty-First Century (Hardcover)
War, Strategy, and American Interests in the Twenty-First Century
Random House, 9780812996791, 288pp.
Publication Date: March 6, 2018
Description
A bracing assessment of U.S. foreign policy over the past two decades, anchored by a major new essay commissioned by the Pentagon about changing power dynamics among China, Eurasia, and America--from the bestselling author of The Revenge of Geography. Drawing on decades of firsthand experience as a foreign correspondent and military embed for The Atlantic, and deep reading that ranges from the lessons of Thucydides and Sun Tzu to contemporary outcomes in the Middle East, Robert D. Kaplan makes a powerful case for what timeless principles and factors should shape America's role in the world: a respect for the limits of Western-style democracy; a delineation between American interests versus American values; an awareness of the psychological toll of warfare; a projection of military power via a strong navy; and much more. In a series of vivid and clear-eyed assessments, renowned foreign policy analyst Kaplan describes an increasingly unstable world--and how American strategy should adapt accordingly. Advance praise for The Return of Marco Polo's World "When it comes to geopolitics and the analysis of world affairs, Robert D. Kaplan is the best in the business. These essays are not only astonishing in their breadth, depth and range, but beautifully crafted and accessible."--John Bew, professor at the war studies department, King's College London, author of Realpolitik: A History and Castlereagh: A Life "A characteristically thoughtful and provocative collection of essays from Robert D. Kaplan, born of his own Marco Polo-like wanderings and rich grasp of history. Elegant and compelling, these prescient pieces are a valuable guide to the endlessly complicated geopolitics of Eurasia, and what it all means for Americans in the decades ahead."--Ambassador William J. Burns, president, Carnegie Endowment for International Peace and former deputy secretary of state "Robert D. Kaplan has long been one of the most unrelenting realistic commentators on the rough, mean, conflictual world disorder that has evolved since the Cold War. This compelling collection of essays on prospects for war and peace distills his insights on a wide range of crucial issues, events, and personalities. He provides a compelling antidote to the facile optimists in the ethnocentric western intelligentsia. Read it with a stiff drink in hand, but be ready to be excited."--Richard K. Betts, director of the Saltzman Institute of War and Peace Studies, Columbia University
About the Author
Robert D. Kaplan is the bestselling author of eighteen books on foreign affairs and travel translated into many languages, including Earning the Rockies, In Europe's Shadow, Asia's Cauldron, The Revenge of Geography, Monsoon, The Coming Anarchy, and Balkan Ghosts. He is a senior fellow at the Center for a New American Security and a senior advisor at Eurasia Group. For three decades he reported on foreign affairs for The Atlantic. He held the national security chair at the United States Naval Academy and was a member of the Pentagon's Defense Policy Board. He is currently a member of the U.S. Navy's Executive Panel. Foreign Policy magazine twice named him one of the world's Top 100 Global Thinkers.
Advertisement