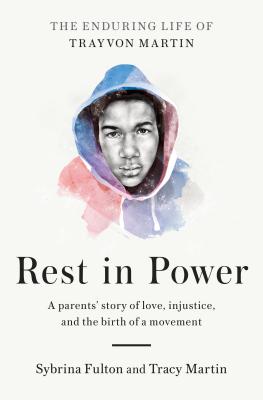 Rest in Power (Hardcover)
The Enduring Life of Trayvon Martin
Spiegel & Grau, 9780812997231, 352pp.
Publication Date: January 31, 2017
Other Editions of This Title:
Digital Audiobook (1/30/2017)
Paperback (5/1/2018)
* Individual store prices may vary.
Description
Trayvon Martin's parents take readers beyond the news cycle with an account only they could give: the intimate story of a tragically foreshortened life and the rise of a movement.

Now a docuseries on the Paramount Network produced by Shawn Carter

On a February evening in 2012, in a small town in central Florida, seventeen-year-old Trayvon Martin was walking home with candy and a can of juice in hand and talking on the phone with a friend when a fatal encounter with a gun-wielding neighborhood watchman ended his young life. The watchman was briefly detained by the police and released. Trayvon's father—a truck driver named Tracy—tried to get answers from the police but was shut down and ignored. Trayvon's mother, a civil servant for the city of Miami, was paralyzed by the news of her son's death and lost in mourning, unable to leave her room for days. But in a matter of weeks, their son's name would be spoken by President Obama, honored by professional athletes, and passionately discussed all over traditional and social media. And at the head of a growing nationwide campaign for justice were Trayvon's parents, who—driven by their intense love for their lost son—discovered their voices, gathered allies, and launched a movement that would change the country.

Five years after his tragic death, Trayvon Martin's name is still evoked every day. He has become a symbol of social justice activism, as has his hauntingly familiar image: the photo of a child still in the process of becoming a young man, wearing a hoodie and gazing silently at the camera. But who was Trayvon Martin, before he became, in death, an icon? And how did one black child's death on a dark, rainy street in a small Florida town become the match that lit a civil rights crusade?

Rest in Power, told through the compelling alternating narratives of Sybrina Fulton and Tracy Martin, answers, for the first time, those questions from the most intimate of sources. It's the story of the beautiful and complex child they lost, the cruel unresponsiveness of the police and the hostility of the legal system, and the inspiring journey they took from grief and pain to power, and from tragedy and senselessness to meaning.

"A beautiful, searing account."—The Washington Post

"A reminder—not only of Trayvon's life and death but of the vulnerability of black lives in a country that still needs to be reminded they matter."—USA Today

"A brave, heart-rending narrative from the parents who lost their son far too soon."—Kirkus Reviews (starred review)
About the Author
Sybrina Fulton and Tracy Martin are the founders of The Trayvon Martin Foundation, which aims to create community programming and raise awareness of the impact of gun violence and racial profiling on families. Fulton and Martin live in the Miami, Florida, area.
Praise For Rest in Power: The Enduring Life of Trayvon Martin…
"A reminder—not only of Trayvon's life and death but of the vulnerability of black lives in a country that still needs to be reminded they matter."—USA Today
 
"A beautiful, searing account."—The Washington Post

"A brave, heart-rending narrative from the parents who lost their son far too soon."—Kirkus Reviews (starred review)
  
"[A] gripping portrayal."—Library Journal (starred review)

"Not since Emmitt Till has a parent's love for a murdered child moved the nation to search its soul about racial injustice and inequality. Sybrina Fulton and Tracy Martin's extraordinary witness, indomitable spirit and unwavering demand for change have altered the dynamics of racial justice discourse in this country.  This powerful book illuminates the witness, the grief, and the commitment to reform that Trayvon Martin's death has mobilized; it is a story fueled by a demand for justice but rooted in love."—Bryan Stevenson, author of Just Mercy

"As the fifth anniversary of this tragic crime nears, Fulton and Martin share a remarkably candid and deeply affecting in-the-moment chronicle of the explosive aftermath of the murder. Writing in alternate chapters, they share every detail of their shock, grief, and grueling quest for justice. . . . Given the unconscionable shooting deaths of young black men, many by police, that followed Trayvon's, this galvanizing testimony from parents who channeled their sorrow into action offers a deeply humanizing perspective on the crisis propelling a national movement."—Booklist (starred review)