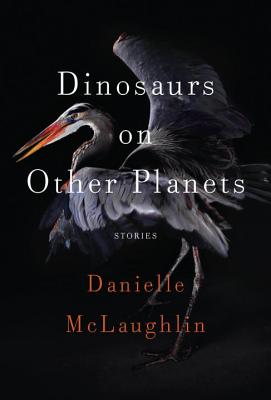 Dinosaurs on Other Planets (Hardcover)
Stories
Random House, 9780812998429, 256pp.
Publication Date: August 9, 2016
* Individual store prices may vary.
Description
For fans of Alice Munro, Anne Enright, and William Trevor comes a stunning debut collection from a deeply original writer and observer of love, betrayal, and turning points in ordinary peoples' lives.
 
In a raw seacoast cabin, a young woman watches her boyfriend go out with his brother, late one night, on a mysterious job she realizes she isn't supposed to know about. A man gets a call at work from his sister-in-law, saying that his wife and his daughter never made it to nursery school that day. A mother learns that her teenage daughter has told a teacher about problems in her parents' marriage that were meant to be private—problems the mother herself tries to ignore. McLaughlin conveys these characters so vividly that readers will feel they are experiencing real life. Often the stories turn on a single, fantastic moment of clarity—after which nothing can be the same.
 
Danielle McLaughlin is a writer of unparalleled precision and uncommon imagination. In her deft hands, ordinary people are transformed and surprising truths are suddenly understood.
 
Praise for Dinosaurs on Other Planets

"Dinosaurs [on Other Planets] marks the stateside debut (in book form, at least—a number of these already have appeared in The New Yorker) of Danielle McLaughlin, a writer of exceptionally deep empathy in the naturalistic tradition of John McGahern and Claire Keegan but with a knack for keen, and often disturbing, observation all her own."–LitHub
 
"McLaughlin's immersive first collection casts a stern eye on individuals, couples, and
families caught in nets of their own making, where even the mildest passion can lead to
death, and journeys home with new lovers can reveal grim secret lives. . . . The title story, which opens up into an ambiguous ending rather than tying its strands up neatly, show[s] the ample bag of tricks McLaughlin has at her disposal."—Publishers Weekly
 
"Danielle McLaughlin's short story collection Dinosaurs on Other Planets is a near perfect, enormously promising debut. . . . McLaughlin's subject matter and themes are serious, undercut brilliantly by a sly strain of pitch-black humor. . . . A brilliant, quietly disturbing debut story collection [that] portrays Irish characters in the uncertain wake of the recent financial crisis."—Shelf Awareness
 
"In her collection, [McLaughlin] focuses on fraught relationships and those sudden, illuminating moments that can light up ordinary lives."—Library Journal
 
"This is not a debut in the usual sense, a promise of greater things to come. There is no need to ask what Danielle McLaughlin will do next—she has done it already. This book has arrived. I think it will stay with us for a long time."—Anne Enright, Man Booker Prize–winning author of The Green Road
 
"Danielle McLaughlin's stories seethe, beneath elegant prose, with unfamiliar insights and entirely original observations. Only an author who loves what human beings are can so compassionately reveal them in all their flawed, gorgeous contradictions and communicate unmistakable joy while doing so. How glad I am to read this impressive new writer! Her fiction is a gift we need."—Robin Black, author of Life Drawing
About the Author
Danielle McLaughlin's stories have appeared in The New Yorker, The Irish Times, The Stinging Fly, and various anthologies. She has won the William Trevor/Elizabeth Bowen International Short Story Competition, the Willesden Herald International Short Story Prize, the Merriman Short Story Competition in memory of Maeve Binchy, and the Dromineer Literary Festival short story competition. McLaughlin lives in County Cork, Ireland.
Praise For Dinosaurs on Other Planets: Stories…
"Dinosaurs [on Other Planets] marks the stateside debut (in book form, at least—a number of these already have appeared in The New Yorker) of Danielle McLaughlin, a writer of exceptionally deep empathy in the naturalistic tradition of John McGahern and Claire Keegan but with a knack for keen, and often disturbing, observation all her own."–LitHub
 
"McLaughlin's immersive first collection casts a stern eye on individuals, couples, and
families caught in nets of their own making, where even the mildest passion can lead to
death, and journeys home with new lovers can reveal grim secret lives. . . . The title story, which opens up into an ambiguous ending rather than tying its strands up neatly, show[s] the ample bag of tricks McLaughlin has at her disposal."—Publishers Weekly
 
"Danielle McLaughlin's short story collection Dinosaurs on Other Planets is a near perfect, enormously promising debut. . . . McLaughlin's subject matter and themes are serious, undercut brilliantly by a sly strain of pitch-black humor. . . . A brilliant, quietly disturbing debut story collection [that] portrays Irish characters in the uncertain wake of the recent financial crisis."—Shelf Awareness
 
"In her collection, [McLaughlin] focuses on fraught relationships and those sudden, illuminating moments that can light up ordinary lives."—Library Journal
 
"The key to writing about the ordinariness of life, which is the objective of most short story writers, is to isolate the distinctive detail about a person or event that speaks to both the universal and the uniqueness in every moment of every day. In her debut collection, McLaughlin, a prizewinning writer living in Ireland, achieves that perception to an unerring degree. . . . [The] stories are equally eloquent, sensitive, and easy to abide; librarians would be wise to hand this collection to fiction readers still unconvinced they can connect with the short story form."—Booklist
 
"This is not a debut in the usual sense, a promise of greater things to come. There is no need to ask what Danielle McLaughlin will do next—she has done it already. This book has arrived. I think it will stay with us for a long time."—Anne Enright, Man Booker Prize–winning author of The Green Road
 
"Danielle McLaughlin's stories seethe, beneath elegant prose, with unfamiliar insights and entirely original observations. Only an author who loves what human beings are can so compassionately reveal them in all their flawed, gorgeous contradictions and communicate unmistakable joy while doing so. How glad I am to read this impressive new writer! Her fiction is a gift we need."—Robin Black, author of Life Drawing

"In McLaughlin's world, the everyday has the same sparkle—or the same devastation—as a glittering galaxy or a war. There is no weakest link in this powerful set of stories—all the characters are given space and time for their stories to build to rich conclusions."—Kirkus Reviews
or
Not Currently Available for Direct Purchase