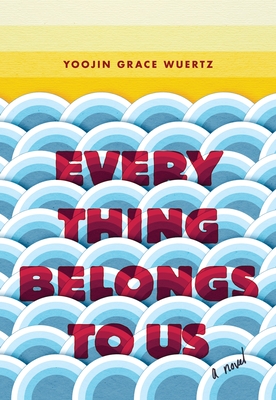 Everything Belongs to Us (Hardcover)
A Novel
Random House, 9780812998542, 368pp.
Publication Date: February 28, 2017
Other Editions of This Title:
Digital Audiobook (2/27/2017)
* Individual store prices may vary.
Description
Two young women of vastly different means each struggle to find her own way during the darkest hours of South Korea's "economic miracle" in a striking debut novel for readers of Anthony Marra and Chimamanda Ngozie Adichie.

Seoul, 1978. At South Korea's top university, the nation's best and brightest compete to join the professional elite of an authoritarian regime. Success could lead to a life of rarefied privilege and wealth; failure means being left irrevocably behind.

For childhood friends Jisun and Namin, the stakes couldn't be more different. Jisun, the daughter of a powerful business mogul, grew up on a mountainside estate with lush gardens and a dedicated chauffeur. Namin's parents run a tented food cart from dawn to curfew; her sister works in a shoe factory. Now Jisun wants as little to do with her father's world as possible, abandoning her schoolwork in favor of the underground activist movement, while Namin studies tirelessly in the service of one goal: to launch herself and her family out of poverty.

But everything changes when Jisun and Namin meet an ambitious, charming student named Sunam, whose need to please his family has led him to a prestigious club: the Circle. Under the influence of his mentor, Juno, a manipulative social climber, Sunam becomes entangled with both women, as they all make choices that will change their lives forever.

In this sweeping yet intimate debut, Yoojin Grace Wuertz details four intertwining lives that are rife with turmoil and desire, private anxieties and public betrayals, dashed hopes and broken dreams—while a nation moves toward prosperity at any cost.

Praise for Everything Belongs to Us

"The intertwined lives of South Korean university students provide intimacy to a rich and descriptive portrait of the country during the period of authoritarian industrialization in the late 1970s. Wuertz's debut novel is a Gatsby-esque takedown, full of memorable characters."—The New York Times Book Review (Editors' Choice)

"Wuertz's masterful novel traces the paths of two friends who come from very different backgrounds, but whose trajectories have taken them to the same point in time. This is a story of love and passion, betrayal and ambition, and it is an always fascinating look at a country whose many contradictions contribute to its often enigmatic allure."—Nylon
About the Author
Yoojin Grace Wuertz was born in Seoul, South Korea, and immigrated to the United States at age six. She holds a BA in English from Yale University and an MFA in fiction from New York University. She lives in northern New Jersey with her husband and son.
Praise For Everything Belongs to Us: A Novel…
"Less a debut and more an arrival, this arresting first novel from Yoojin Grace Wuertz brings to life a South Korea poised on the brink of transformation and the young people caught up in its turbulence. . . . Readers will easily draw parallels between the South Korean generation pictured here and today's millennials, both groups of young people set to inherit sink-or-swim social orders with huge gaps in wealth. . . . Powerful and absorbing, Everything Belongs to Us introduces a new and compelling voice."—Shelf Awareness

"Hauntingly relevant . . . hums with exquisite tensions . . . The novel reveals an exciting place and time, in the catalytic sense, and all the more-so for us as visitors who are surrounded by its echoes—class, sex, race—even now."—Paste

"Engrossing . . . Wuertz is an important new voice in American fiction."—Kirkus Reviews (starred review)

"[A] memorable debut . . . Wuertz crafts a story with delicious scenes and plot threads."—Publishers Weekly
 
"An absorbing debut destined for major lists and nominations."—Booklist

"If South Korea transformed in a generation, this is the generation that transformed it: rich and poor, reckless and disciplined, loyal and faithless. Yoojin Grace Wuertz's fierce and unforgettable characters embody every contradiction as they do everything they can to ensure their own, and their nation's, survival. In Everything Belongs to Us, Wuertz has given us a Middlemarch for modern South Korea. She's woven the whole social tapestry, and made us care about every last thread."—Susan Choi, author of My Education

"I found myself engrossed in the difficult choices faced by Wuertz's nuanced, engaging characters as they navigate college politics and romance in 1970s Seoul. I'm thrilled to have experienced their inner lives in these pages—to have celebrated their victories and commiserated in the pain of their mistakes—and would happily have stuck with them for hundreds more."—Emily Barton, author of The Book of Esther

"What a story! Everything belongs to this terrific debut: love, family, friendship, and politics. I especially loved the two strong-willed and passionate heroines. Their ideals, choices, and struggles make this an utterly rapturous literary page-turner."—Samuel Park, author of This Burns My Heart

"Historic in scope yet eerily contemporary, Everything Belongs to Us is a stirring debut that immerses readers in a society where some quietly hope for change and others must demand it.  In Yoojin Grace Wuertz's capable hands, characters come alive with desire for a different kind of life, and heartbreak is the price of longing."—Jung Yun, author of Shelter