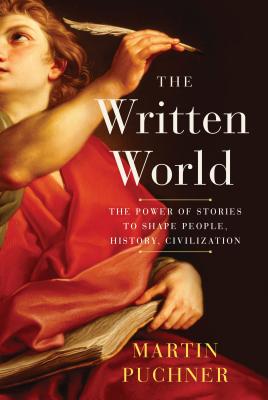 The Written World (Hardcover)
The Power of Stories to Shape People, History, Civilization
Random House, 9780812998931, 448pp.
Publication Date: October 24, 2017
Other Editions of This Title:
Digital Audiobook (10/23/2017)
Paperback (7/24/2018)
* Individual store prices may vary.
Description
The story of literature in sixteen acts—from Homer to Harry Potter, including The Tale of Genji, Don Quixote, The Communist Manifesto, and how they shaped world history

In this groundbreaking book, Martin Puchner leads us on a remarkable journey through time and around the globe to reveal the how stories and literature have created the world we have today. Through sixteen foundational texts selected from more than four thousand years of world literature, he shows us how writing has inspired the rise and fall of empires and nations, the spark of philosophical and political ideas, and the birth of religious beliefs.

We meet Murasaki, a lady from eleventh-century Japan who wrote the first novel, The Tale of Genji, and follow the adventures of Miguel de Cervantes as he battles pirates, both seafaring and literary. We watch Goethe discover world literature in Sicily, and follow the rise in influence of The Communist Manifesto. Puchner takes us to Troy, Pergamum, and China, speaks with Nobel laureates Derek Walcott in the Caribbean and Orhan Pamuk in Istanbul, and introduces us to the wordsmiths of the oral epic Sunjata in West Africa. This delightful narrative also chronicles the inventions—writing technologies, the printing press, the book itself—that have shaped people, commerce, and history. In a book that Elaine Scarry has praised as "unique and spellbinding," Puchner shows how literature turned our planet into a written world.

Praise for The Written World

"It's with exhilaration . . . that one hails Martin Puchner's book, which asserts not merely the importance of literature but its all-importance. . . . Storytelling is as human as breathing."—The New York Times Book Review

"Puchner has a keen eye for the ironies of history. . . . His ideal is 'world literature,' a phrase he borrows from Goethe. . . . The breathtaking scope and infectious enthusiasm of this book are a tribute to that ideal."—The Sunday Times (U.K.) 

"Enthralling . . . Perfect reading for a long chilly night . . . [Puchner] brings these works and their origins to vivid life."—BookPage

"Well worth a read, to find out how come we read."—Margaret Atwood, via Twitter
About the Author
Martin Puchner is the Byron and Anita Wien Professor of Drama and of English and Comparative Literature at Harvard University. His prizewinning books cover subjects from philosophy to the arts, and his bestselling six-volume Norton Anthology of World Literature and his HarvardX MOOC (massive open online course) have brought four thousand years of literature to students across the globe. He lives in Cambridge, Massachusetts.
Praise For The Written World: The Power of Stories to Shape People, History, Civilization…
"[Puchner] emphasises the ubiquity of storytelling across human history, elevating it in the manner of the historian Yuval Noah Harari's Sapiens: A Brief History of Humankind into perhaps the defining human trait, necessary to instil the trust on which so much else is built. . . . The book builds a convincing case that writing technologies are more foundational in major historical moments than we may have otherwise thought."—Financial Times
 
"If you love literature (and if you are reading this column you probably do), then you are likely to find Martin Puchner's The Written World: The Power of Stories to Shape People, History, Civilization enthralling. . . . Puchner is a generous, natural teacher who brings these works and their origins to vivid life. . . . Education and enthusiasm combine seamlessly in Puchner's sweeping narrative, which comprises history, biography, technology and ideas. And while it is a cliché to say he brings literature to life, he does exactly that, connecting the dots of civilization in new and interesting ways. The Written World is perfect reading for a long chilly night, and it will leave you thinking in new ways about the wondrous thing called literature that, perhaps, we sometimes take for granted."—BookPage
 
"Puchner has a keen eye for the ironies of history. . . . [His] seemingly boundless curiosity propels him not just through the world of books but around the globe. . . . His ideal is 'world literature,' a phrase he borrows from Goethe, who was impatient with cultural frontiers, read Chinese novels and Persian poetry and knew a dozen languages. The breathtaking scope and infectious enthusiasm of this book are a tribute to that ideal."—The Sunday Times
 
"In this timely chronicle, Puchner, a professor of English and comparative literature at Harvard University, tells the story both of the ideas that shaped civilization and the equally crucial technology that transmitted and preserved those ideas. . . . By providing snapshots of key moments in the written word's evolution, Puchner creates a gripping intellectual odyssey."—Publishers Weekly
 
"Puchner doesn't just tell us about the important works of literature that have shaped civilization over four thousand years, from The Epic of Gilgamesh to Don Quixote to J. K. Rowling's Harry Potter series. He tells us about the people whose personal persuasions led them to create those works. It's literature not as mirror, then, but as potent force."—Library Journal

"Well worth a read, to find out how come we read."—Margaret Atwood, via Twitter
 
"The Written World is not only an expansive, exuberant survey of the central importance of literature in human culture but also a great adventure story—a story of letters and paper and rocket ships, of ruthless conquerors and elegant court ladies and middle-class entrepreneurs, of the will to power and the dream of freedom."—Stephen Greenblatt, author of The Swerve: How the World Became Modern
or
Not Currently Available for Direct Purchase