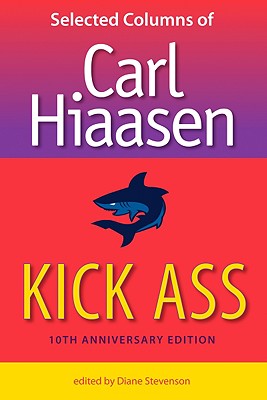 Kick Ass (Paperback)
Selected Columns of Carl Hiaasen
University Press of Florida, 9780813034294, 447pp.
Publication Date: September 1, 2009
Description
"You just cover a lot of territory and you do it aggressively and you do it fairly and you don't play favorite sand you don't take any prisoners. It's the old school of slash-and-burn metropolitan column writing. You just kick ass. That's what you do. And that's what they pay you to do.--Carl Hiaasen
Praise for Kick Ass
"Readers who know Hiaasen only from his bestselling crime novels will find that this collection of columns from the Miami Herald showcases the same voice singing in a different key . . . He writes with an old-time columnist's sense of righteous rage and an utterly current and biting wit."--Publishers Weekly
"Reveals an angry, alert civic muckraker in the pugilistic vein of Mencken or Royko. . . . Hiaasen cut his teeth as an investigative reporter, and this spirit is strong in both his chosen subjects and his wry attention to unforgiving evidentiary detail. . . . Deeply satisfying."--Kirkus Reviews
"Reminiscent of the snarky, opinionated newspaper articles of the great Mark Twain, Hiaasen's columns are finely crafted little gems."--Booklist
"Shows you that Hiaasen's seemingly implausible fictional premises aren't really far-fetched at all. He just knows Florida."--Playboy
About the Author
Bestselling author Carl Hiaasen has written Tourist Season, Strip Tease, Sick Puppy, Skinny Dip, and many other novels that have helped define Florida noir. He is also the author of three popular books for young readers, Hoot, Flush, and most recently, Scat. His nonfiction includes Team Rodent: How Disney Devours the World and Downhill Lie: A Hacker's Return to a Ruinous Sport. A Florida native and lifelong resident, Hiaasen still writes regularly for the Miami Herald, where he has worked for 33 years and where these columns first appeared. His Web site is www.carlhiaasen.com. Diane Stevenson teaches research writing in the psychology department at the University of Florida.
Advertisement