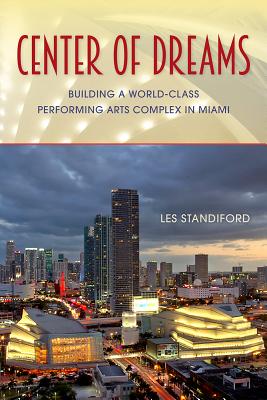 Center of Dreams (Hardcover)
Building a World-Class Performing Arts Complex in Miami
University Press of Florida, 9780813056722, 272pp.
Publication Date: April 10, 2018
* Individual store prices may vary.
Description
Discover how one spectacular building project transformed Miami from a fractious tropical city to a cultural capital of the Americas. In Center of Dreams, New York Times bestselling author Les Standiford tells the inspiring story of the Adrienne Arsht Center for the Performing Arts.
The vision for this building, which would become the most ambitious cultural arts complex since the Kennedy Center, began in an unlikely place and time. Miami in the 1970s was divided by social and ethnic tensions. The city held a growing population of immigrants from the Cuban revolution, a well-established African American community, Florida "crackers," and a continual influx of tourists and retirees. Critics said a cultural center would never be possible in a place of such extreme diversity.
But Parker Thomson, a lawyer and Boston transplant, dreamed that his adopted city would become a world-leading community in the twenty-first century. He believed a performing arts center was critical to this vision. Persevering against political opposition, economic obstacles, and engineering problems, Thomson spent over 30 years making the dream a reality. With Thomson's efforts, along with help from cultural leaders, iconic design work by architect Cesar Pelli, and support from philanthropist Adrienne Arsht, the project succeeded against all odds.
Today, the Arsht Center is a cutting-edge magnet of style and art. Presenting performances that celebrate the richness of Miami's diverse population, it showcases emerging local artists and attracts international stars. Resident companies include the New World Symphony, the Florida Grand Opera, and the Miami City Ballet. Its improbable story is a testament to the influence of cultural advocacy, the importance of government support for the arts, and the power of the arts to repair and sustain communities.
About the Author
Les Standiford is founding director of the Creative Writing program at Florida International University. He is the author of many novels and works of nonfiction, including Last Train to Paradise: Henry Flagler and the Spectacular Rise and Fall of the Railroad that Crossed an Ocean.