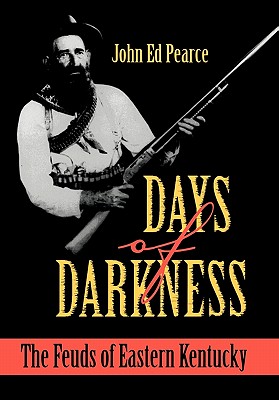 Days of Darkness
The Feuds of Eastern Kentucky
Hardcover

* Individual store prices may vary.
Other Editions of This Title:
Paperback (8/26/2010)
Description
" Among the darkest corners of Kentucky's past are the grisly feuds that tore apart the hills of Eastern Kentucky from the late nineteenth century until well into the twentieth. Now, from the tangled threads of conflicting testimony, John Ed Pearce, Kentucky's best known journalist, weaves engrossing accounts of six of the most notorior accounts to uncover what really happened and why. His story of those days of darkness brings to light new evidence, questions commonly held beliefs about the feuds, and us and long-running feuds -- those in Breathitt, Clay Harlan, Perry, Pike, and Rowan counties. What caused the feuds that left Kentucky with its lingering reputation for violence? Who were the feudists, and what forces -- social, political, financial -- hurled them at each other? Did Big Jim Howard really kill Governor William Goebel? Did Joe Eversole die trying to protect small mountain landowners from ruthless Eastern mineral exploiters? Did the Hatfield-McCoy fight start over a hog? For years, Pearce has interviewed descendants of feuding families and examined skimpy court records and often fictional newspapeputs to rest some of the more popular legends.
University Press of Kentucky, 9780813118741, 252pp.
Publication Date: November 15, 1994
About the Author
John Ed Pearce worked on the staff of the Louisville Courier-Journal for forty years and was a widely published columnist. He was co-recipient of a Pulitzer Prize in 1967.