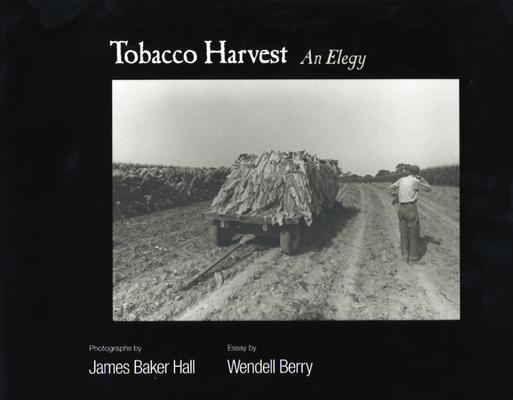 Tobacco Harvest
An Elegy
Hardcover

* Individual store prices may vary.
Other Editions of This Title:
Hardcover (3/15/2022)
Description
"In 1973, James Baker Hall photographed these scenes and events of a Kentucky tobacco harvest. We look at them now with a sort of wonder, and with some regret, realizing that while our work was going on, powerful forces were at play that would change the scene and make "history" of those lived days, which were enriched for us then by their resemblance to earlier days and to days that presumably were to follow." -- Wendell Berry, from the book
An insightful meditation on the shifting nature of humans' relationships with the land and with each other, Berry's essay laments the economic, political, and societal changes that have forever altered Kentucky's rich agricultural traditions. Berry also adds a deeply personal perspective to Hall's eloquent visual testimony.
With a farm of his own nearby, Berry was a longtime friend and neighbor of the families shown in Hall's pictures and took part in their work swapping. In addition to detailing the repetitive, strenuous labor involved in harvesting a tobacco crop, he relates memories of stories told, laughs shared, meals savored, and brief moments of rest and refreshment well earned.
Hall's striking photographs illuminate the characters and events that Berry describes. During the 1973 harvest, he photographed the rows stretching toward the horizon while laborers cut a tobacco crop, one plant at a time, until the last row was cut, hauled, and housed in the barn. These photographs powerfully convey the physical experiences of a Kentucky tobacco harvest: the heat of the sun, the dirt, and the people hard at work.
James Baker Hall, former Kentucky Poet Laureate, is the author of many books, including The Total Light Process and Yates Paul, His Grand Fights, His Tootings.
Wendell Berry is a poet, a novelist, a farmer, a conservationist, and a former professor of English. His books include The Unsettling of America: Culture and Agriculture, Jayber Crow, Two More Stories of the Port William Membership, Life is a Miracle: An Essay against Modern Superstition, and Harlan Hubbard: Life and Work.
University Press of Kentucky, 9780813123271, 78pp.
Publication Date: September 24, 2004
or
Not Currently Available for Direct Purchase