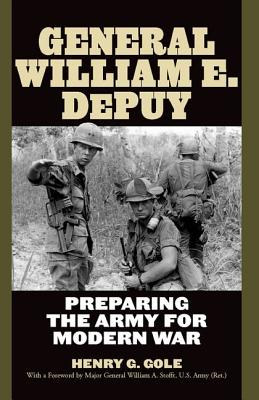 General William E. Depuy
Preparing the Army for Modern War (American Warriors)
Hardcover

* Individual store prices may vary.
Description
From the late 1960s to the late 1970s, the United States Army was a demoralized institution in a country in the midst of a social revolution. The war in Vietnam had gone badly and public attitudes about it shifted from indifference, to acceptance, to protest. Army Chief of Staff General Creighton Abrams directed a major reorganization of the Army and appointed William E. DePuy (1919-1992) commander of the newly established Training and Doctrine Command (TRADOC), in 1973. DePuy already had a dist.
University Press of Kentucky, 9780813125008, 408pp.
Publication Date: September 26, 2008
About the Author
Henry G. Gole has taught at West Point, the U.S. Army College, the University of Maryland, and Dickinson College. He is the author of The Road to Rainbow: Army Planning for Global War, 1934--1940 and Soldiering: Observations from Korea, Vietnam, and Safe Places. In addition, he served as a rifleman in Korea and completed two tours as a Special Forces Officer during the Vietnam War.