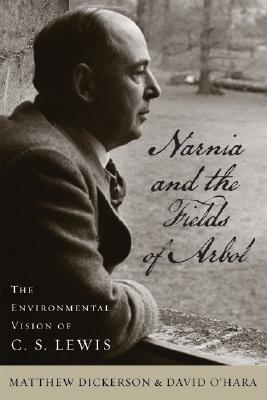 Narnia and the Fields of Arbol
The Environmental Vision of C. S. Lewis (Culture of the Land: A Series in the New Agrarianism)
Hardcover

* Individual store prices may vary.
Description
The remarkable breadth of C. S. Lewis's (1898--1963) work is nearly as legendary as the fantastical tales he so inventively crafted. A variety of themes emerge in his literary output, which spans the genres of nonfiction, fantasy, science fiction, and children's literature, but much of the scholarship examining his work focuses on religion or philosophy. Overshadowed are Lewis's views on nature and his concern for environmental stewardship, which are present in most of his work. In Narnia and the Fields of Arbol: The Environmental Vision of C. S. Lewis, authors Matthew Dickerson and David O'Hara illuminate this important yet overlooked aspect of the author's visionary work. Dickerson and O'Hara go beyond traditional theological discussions of Lewis's writing to investigate themes of sustainability, stewardship of natural resources, and humanity's relationship to wilderness. The authors examine the environmental and ecological underpinnings of Lewis's work by exploring his best-known works of fantasy, including the seven books of the Chronicles of Narnia and the three novels collectively referred to as the Space Trilogy. Taken together, these works reveal Lewis's enduring environmental concerns, and Dickerson and O'Hara offer a new understanding of his pioneering style of fiction. An avid outdoorsman, Lewis deftly combined an active imagination with a deep appreciation for the natural world. Narnia and the Fields of Arbol, the first book-length work on the subject, explores the marriage of Lewis's environmental passion with his skill as a novelist and finds the author's legacy to have as much in common with the agrarian environmentalism of Wendell Berry as it does with the fantasy of J. R. R. Tolkien. In an era of increasing concern about deforestation, climate change, and other environmental issues, Lewis's work remains as pertinent as ever. The widespread adaption of his work in film lends credence to the author's staying power as an influential voice in both fantastical fiction and environmental literature. With Narnia and the Fields of Arbol, Dickerson and O'Hara have written a timely work of scholarship that offers a fresh perspective on one of the most celebrated authors in literary history.
University Press of Kentucky, 9780813125220, 304pp.
Publication Date: December 19, 2008
About the Author
Matthew T. Dickerson is professor of environmental studies and computer science at Middlebury College, author of Ents, Elves, and Eriador: The Environmental Vision of J. R. R. Tolkien, Following Gandalf: Epic Battles and Moral Victory in The Lord of the Rings and The Finnsburg Encounter, and coeditor of From Homer to Harry Potter: A Handbook on Myth and Fantasy. David O'Hara is assistant professor of philosophy and instructor in classical Greek at Augustana College in Sioux Falls, South Dakota. He is coeditor of From Homer to Harry Potter: A Handbook on Myth and Fantasy.
or
Not Currently Available for Direct Purchase