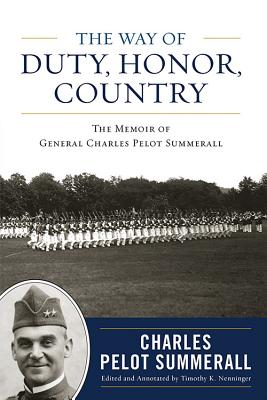 The Way of Duty, Honor, Country
The Memoir of General Charles Pelot Summerall (American Warriors)
Hardcover

* Individual store prices may vary.
Description
After graduating from West Point in 1892, Charles Pelot Summerall (1867--1955) launched a distinguished military career, fighting Filipino insurgents in 1899 and Boxers in China in 1900. His remarkable service included brigade, division, and corps commands in World War I; duty as chief of staff of the U.S. Army from 1926 to 1930; and presidency of the Citadel for twenty years, where he was instrumental in establishing the school's national reputation.
Previously available only in the Citadel's archives, Summerall's memoir offers an eyewitness account of a formative period in U.S. Army history. Edited and annotated by Timothy K. Nenninger, the memoir documents critical moments in American military history and details Summerall's personal life, from his impoverished childhood in Florida to his retirement from the Citadel in 1953. From the perspective of both a soldier and a general, Summerall describes how the very nature of war changed irrevocably during his lifetime.
University Press of Kentucky, 9780813126180, 328pp.
Publication Date: October 11, 2010
About the Author
Timothy K. Nenninger is chief of the Textual Records reference staff at the U.S. National Archives and Records Administration.