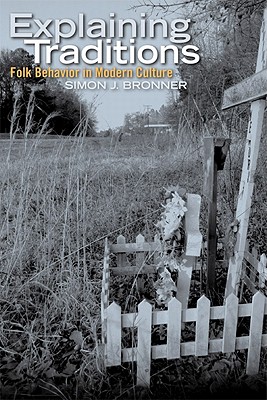 Explaining Traditions (Material Worlds) (Hardcover)
University Press of Kentucky, 9780813134062, 530pp.
Publication Date: January 1, 2012
Other Editions of This Title:
Paperback (7/15/2015)
* Individual store prices may vary.
Description
Why do humans hold onto traditions? Many pundits predicted that modernization and the rise of a mass culture would displace traditions, especially in America, but cultural practices still bear out the importance of rituals and customs in the development of identity, heritage, and community. In Explaining Traditions: Folk Behavior in Modern Culture, Simon J. Bronner discusses the underlying reasons for the continuing significance of traditions, delving into their social and psychological roles in everyday life, from old-time crafts to folk creativity on the Internet. Challenging prevailing notions of tradition as a relic of the past, Explaining Traditions provides deep insight into the nuances and purposes of living traditions in relation to modernity. Bronner's work forces readers to examine their own traditions and imparts a better understanding of raging controversies over the sustainability of traditions in the modern world.

About the Author
Simon J. Bronner, Distinguished University Professor of American Studies and Folklore and director of the American Studies doctoral program at Pennsylvania State University, Harrisburg, is the author of more than a dozen books, including Grasping Things: Folk Material Culture and Mass Society in America and Killing Tradition: Inside Hunting and Animal Rights Controversies. He lives in Harrisburg, Pennsylvania.