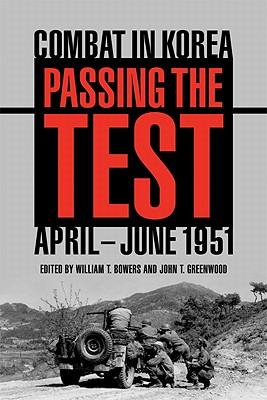 Passing the Test
Combat in Korea, April-June 1951 (Battles and Campaigns)
Hardcover

* Individual store prices may vary.
Description
For U.S. and UN soldiers fighting the Korean War, the spring of 1951 was brutal. The troops faced a tough and determined foe under challenging conditions. The Chinese Spring Offensive of 1951 exemplified the hardships of the war, as the UN forces struggled with the Chinese troops over Line Kansas, a phase line north of the 38th parallel, in a conflict that led to the war's final stalemate. Passing the Test: Combat in Korea, April-June 1951 explores the UN responses to the offensive in detail, lo.
University Press of Kentucky, 9780813134529, 488pp.
Publication Date: October 3, 2011
About the Author
William T. Bowers (1946-2008), a former U.S. Army officer, was editor of The Line: Combat in Korea, January-February 1951 and Striking Back: Combat in Korea, March-April 1951. John T. Greenwood, who retired in 2007 as chief of the Office of Medical History, Office of the Surgeon General, U.S. Army, is the editor of Milestones of Aviation, Normandy to Victory: The War Diary of General Courtney H. Hodges and the First U.S. Army, and The Blitzkrieg Legend: The 1940 Campaign in the West. He lives in Annandale, Virginia.