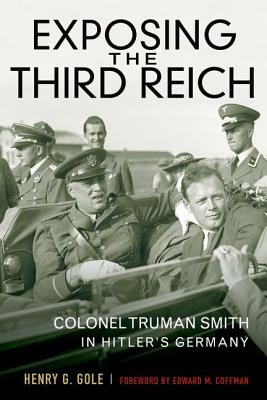 Exposing the Third Reich
Colonel Truman Smith in Hitler's Germany (American Warriors)
Hardcover

* Individual store prices may vary.
Description
As World War II recedes from living memory, there remain untold stories of important behind-the-scenes operatives who provided vital support to the leaders celebrated in historical accounts. Colonel Truman Smith is one of the most compelling figures from this period, but there has never been a biography of this important and controversial man. In Exposing the Third Reich, Henry G. Gole tells this soldier's story for the first time.
An American aristocrat from a prominent New England family, Smith was first assigned to Germany in 1919 during the Allied occupation and soon became known as a regional expert. During his second assignment in the country as a military attach in 1935, he arranged for his good friend Charles Lindbergh to inspect the Luftwaffe. The Germans were delighted to have the famous aviator view their planes, enabling Smith to gather key intelligence about their air capability. His savvy cultivation of relationships rendered him invaluable throughout his service, particularly as an aide to General George C. Marshall; however, the colonel's friendliness with Germany also aroused suspicion that he was a Nazi sympathizer.
Gole demonstrates that, far from condoning Hitler, Smith was among the first to raise the alarm: he predicted many of the Nazis' moves years in advance and feared that the international community would not act quickly enough. Featuring many firsthand observations of the critical changes in Germany between the world wars, this biography presents an indispensable look both at a fascinating figure and at the nuances of the interwar years.
University Press of Kentucky, 9780813141763, 432pp.
Publication Date: August 20, 2013
About the Author
Henry G. Gole has taught at West Point, the U.S. Army War College, the University of Maryland, and Dickinson College. In addition, he served as a rifleman in Korea and completed two tours as a Special Forces officer during the Vietnam War. He is the author of four books, including General William E. DePuy: Preparing the Army for Modern War.
or
Not Currently Available for Direct Purchase