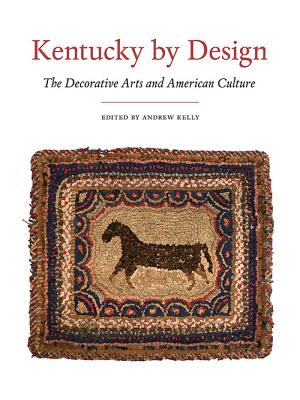 Kentucky by Design
The Decorative Arts and American Culture
Hardcover

* Individual store prices may vary.
Description
The Index of American Design was one of the most significant undertakings of the Federal Art Project -- the visual arts arm of the Works Progress Administration. Part of President Franklin D. Roosevelt's New Deal, this ambitious initiative set out to discover and document an authentic American style in everyday objects. The curators of the Index combed the country for art of the machine age -- from carved carousel horses to engraved powder horns to woven coverlets -- created by artisans for practical use. In their search for a true American artistic identity, they also sought furniture designed by regional craftsmen laboring in isolation from European traditions. Kentucky by Design offers the first comprehensive examination of the objects from the Bluegrass State featured in this historic venture. It showcases a wide array of offerings, including architecture, furniture, ceramics, musical instruments, textiles, clothing, and glass- and metalworks. The Federal Art Project played an important role in documenting and preserving the work of Shaker artists from the Pleasant Hill and South Union communities, and their creations are exhibited in this illuminating catalog. Beautifully illustrated with both the original watercolor depictions and contemporary, art-quality photographs of the works, this book is a lavish exploration of the Commonwealth's distinctive contribution to American culture and modern design.
Features contributions from Jean M. Burks, Erika Doss, Jerrold Hirsch, Lauren Churilla, Larrie Currie, Michelle Ganz, Tommy Hines, Lee Kogan, Ron Pen, Janet Rae, Shelly Zegart, Mel Hankla, Philippe Chavance, Kate Hesseldenz, Madeleine Burnside, and Allan Weiss.
University Press of Kentucky, 9780813155678, 328pp.
Publication Date: July 31, 2015