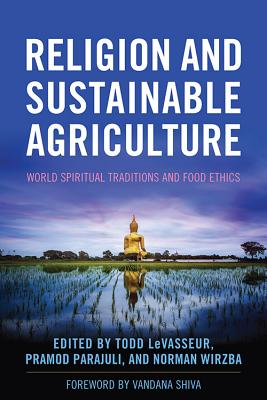 Religion and Sustainable Agriculture
World Spiritual Traditions and Food Ethics (Culture of the Land)
Hardcover

* Individual store prices may vary.
Description
Distinct practices of eating are at the heart of many of the world's faith traditions--from the Christian Eucharist to Muslim customs of fasting during Ramadan to the vegetarianism and asceticism practiced by some followers of Hinduism and Buddhism. What we eat, how we eat, and whom we eat with can express our core values and religious devotion more clearly than verbal piety.
In this wide-ranging collection, eminent scholars, theologians, activists, and lay farmers illumina.
University Press of Kentucky, 9780813167978, 394pp.
Publication Date: October 21, 2016
About the Author
Todd LeVasseur is visiting assistant professor in the religious studies department and director of environmental studies at the College of Charleston.Pramod Parajuli currently serves as associate faculty for the PhD program in sustainability education at Prescott College, and has published on the themes of political ecology, religion and ecology, sustainability education, and learning gardens.Norman Wirzba is professor of theology, ecology, and rural life at Duke Divinity School and research professor in the Nicholas School for the Environment at Duke. He is the author or editor of several books, including The Essential Agrarian Reader: The Future of Culture, Community, and the Land and Food and Faith: A Theology of Eating.