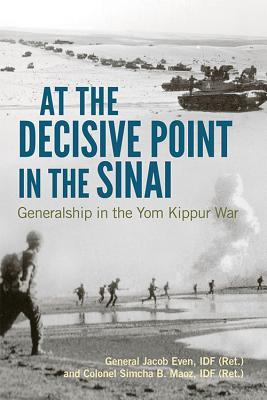 At the Decisive Point in the Sinai
Generalship in the Yom Kippur War (Foreign Military Studies)
Hardcover

* Individual store prices may vary.
Description
The Yom Kippur War pitted Israel against Syria in the north and Egypt in the south in October 1973. Caught by surprise and surrounded by enemies, Israel relied on the flexibility and creative thinking of its senior field commanders. After Israeli forces halted the Egyptian troops on the Sinai Peninsula, Major General Ariel Sharon seized the opportunity to counterattack. He split the Egyptian army and cut off its supply lines in a maneuver known as Operation Stouthearted Men. Sharon's audaciou.
University Press of Kentucky, 9780813169552, 328pp.
Publication Date: September 15, 2017
About the Author
General Jacob Even, IDF (Ret.), led armored units at all levels and served as both division commander and IDF National Defense College commander. Colonel Simcha B. Maoz, IDF (Ret.), held staff and instruction positions in the infantry and paratroops command before being assigned to the General Staff.