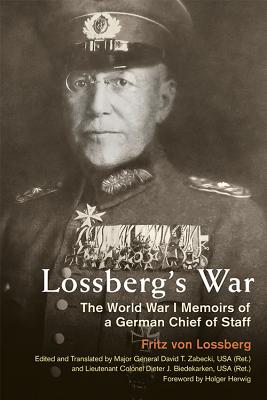 Lossberg's War
The World War I Memoirs of a German Chief of Staff (Foreign Military Studies)
Hardcover

* Individual store prices may vary.
Description
General Fritz von Lossberg (1868--1942) directed virtually all the major German defensive battles on the Western Front during the First World War. Hailed as "the Lion of the Defensive," he was an extremely influential military tactician and, unlike many other operations officers of his era, was quick to grasp the changes wrought by technology.
Now available for the first time in English, Lossberg's memoir explains how he developed, tested, and implemented his central principles -- flexi.
University Press of Kentucky, 9780813169804, 480pp.
Publication Date: September 15, 2017
About the Author
Major General David T. Zabecki, USA (Ret.), is the author or editor of many books, including Germany at War: Four Hundred Years of Military History and The Schlieffen Plan: International Perspectives on the German Strategy for World War I. He was a distinguished visiting professor at the US Naval Academy. He is an honorary senior research fellow in the War Studies Programme at the University of Birmingham in the United Kingdom.Lieutenant Colonel Dieter Biedekarken, USA (Ret.), is coeditor of Order in Chaos: The Memoirs of General of Panzer Troops Hermann Balck, 1893--1948.