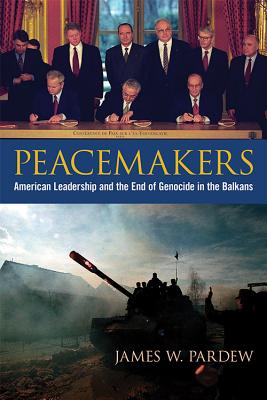 Peacemakers
American Leadership and the End of Genocide in the Balkans (Studies in Conflict)
Hardcover

* Individual store prices may vary.
Description
The wars that accompanied the breakup of Yugoslavia in the 1990s were the deadliest European conflicts since World War II. The violence escalated to the point of genocide when, over the course of ten days in July 1995, Serbian troops under the command of General Ratko Mladic murdered 8,000 unarmed men and boys who had sought refuge at a UN safe-haven in Srebrenica. Shocked, the United States quickly launched a diplomatic intervention supported by military force that ultimately brought peace t.
University Press of Kentucky, 9780813174358, 424pp.
Publication Date: January 5, 2018
About the Author
James W. Pardew was at the heart of US national policymaking throughout the humanitarian crises in the Balkans from Richard Holbrooke's negotiations on Bosnia in 1995 until the independence of Kosovo in 2008. Ambassador Pardew was the primary US negotiator of the Ohrid Agreement in Macedonia. He also led Balkan task forces for the Secretaries of Defense and State and served as a policy advisor at NATO. Prior to his diplomatic service, he spent twenty-seven years in the US Army as an intelligence officer.