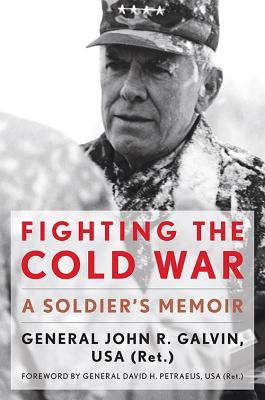 Fighting the Cold War
A Soldier's Memoir (American Warriors)
Paperback

* Individual store prices may vary.
Other Editions of This Title:
Hardcover (4/22/2015)
Description
When four-star general John Rogers Galvin retired from the US Army after forty-four years of distinguished service in 1992, the Washington Post hailed him as a man "without peer among living generals." In Fighting the Cold War: A Soldier's Memoir, the celebrated soldier, scholar, and statesman recounts his active participation in more than sixty years of international history -- from the onset of World War II through the fall of the Berlin Wall and the post--Cold War era.
Galvin's illustrious tenure included the rare opportunity to lead two different Department of Defense unified commands: United States Southern Command in Panama from 1985 to 1987 and United States European Command from 1987 to 1992. In his memoir, he recounts fascinating behind-the-scenes anecdotes about his interactions with world leaders, describing encounters such as his experience of watching President Jos Napole n Duarte argue eloquently against US intervention in El Salvador; a private conversation with Pope John Paul II in which the pontiff spoke to him about what it means to be a man of peace; and his discussion with General William Westmoreland about soldiers' conduct in the jungles of Vietnam and Cambodia. In addition, Galvin recalls his complex negotiations with a number of often difficult foreign heads of state, including Manuel Noriega, Augusto Pinochet, Mikhail Gorbachev, and Ratko Mladic.
As NATO Supreme Allied Commander in Europe during the tumultuous five years that ended the Cold War, Galvin played a key role in shaping a new era. Fighting the Cold War illuminates his leadership and service as one of America's premier soldier-statesmen, revealing him to be not only a brilliant strategist and consummate diplomat but also a gifted historian and writer who taught and mentored generations of students.
University Press of Kentucky, 9780813176000, 568pp.
Publication Date: August 3, 2018
About the Author
General John R. Galvin, USA (Ret.), was dean of the Fletcher School of Law and Diplomacy at Tufts University and is the author of The Minute Men: The First Fight: Myths and Realities of the American Revolution ; Air Assault: the Development of Airmobile Warfare ; and Three Men of Boston: Leadership and Conflict at the Start of the American Revolution. He has received numerous awards, including the Legion of Merit and the Army Distinguished Service Medal.
or
Not Currently Available for Direct Purchase