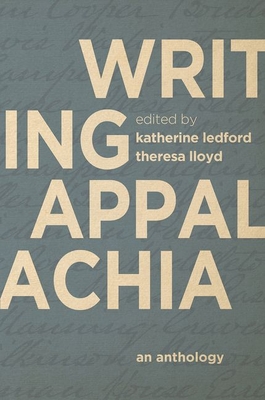 Writing Appalachia
An Anthology
Hardcover

* Individual store prices may vary.
Description
Despite the stereotypes and misconceptions surrounding Appalachia, the region has nurtured and inspired some of the nation's finest writers. Featuring dozens of authors born into or adopted by the region over the past two centuries, Writing Appalachia showcases for the first time the nuances and contradictions that place Appalachia at the heart of American history.
This comprehensive anthology covers an exceedingly diverse range of subjects, genres, and time periods, beginning with early Native American oral traditions and concluding with twenty-first-century writers such as Wendell Berry, bell hooks, Silas House, Barbara Kingsolver, and Frank X Walker. Slave narratives, local color writing, folklore, work songs, modernist prose -- each piece explores unique Appalachian struggles, questions, and values. The collection also celebrates the significant contributions of women, people of color, and members of the LGBTQ community to the region's history and culture. Alongside Southern and Central Appalachian voices, the anthology features northern authors and selections that reflect the urban characteristics of the region. As one text gives way to the next, a more complete picture of Appalachia emerges -- a landscape of contrasting visions and possibilities.
University Press of Kentucky, 9780813178790, 776pp.
Publication Date: March 17, 2020
About the Author
Katherine Ledford is professor of Appalachian studies at Appalachian State University and coeditor of Back Talk from Appalachia: Confronting Stereotypes. Theresa Lloyd is coeditor of the literature section of the Encyclopedia of Appalachia and professor emerita at East Tennessee State University.