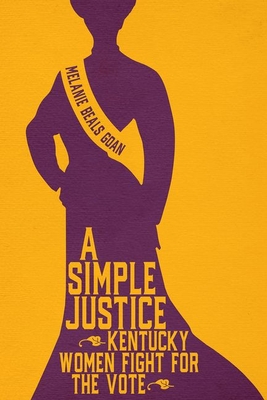 A Simple Justice
Kentucky Women Fight for the Vote
Hardcover

* Individual store prices may vary.
Description
When the Declaration of Independence was signed by a group of wealthy white men in 1776, poor white men, African Americans, and women quickly discovered that the unalienable rights it promised were not truly for all. The Nineteenth Amendment eventually gave women the right to vote in 1920, but the change was not welcomed by people of all genders in politically and religiously conservative Kentucky. As a result, the suffrage movement in the Commonwealth involved a tangled web of stakeholders, entrenched interest groups, unyielding constitutional barriers, and activists with competing strategies.
In A Simple Justice, Melanie Beals Goan offers a new and deeper understanding of the women's suffrage movement in Kentucky by following the people who labored long and hard to see the battle won. Women's suffrage was not simply a question of whether women could and should vote; it carried more serious implications for white supremacy and for the balance of federal and state powers -- especially in a border state. Shocking racial hostility surfaced even as activists were working to make America more equitable.
Goan looks beyond iconic figures such as Susan B. Anthony and Elizabeth Cady Stanton to reveal figures whose names have been lost to history. Laura Clay and Madeline McDowell Breckinridge led the Kentucky movement, but they did not do it alone. This timely study introduces readers to individuals across the Bluegrass State who did their part to move the nation closer to achieving its founding ideals.
University Press of Kentucky, 9780813180175, 296pp.
Publication Date: November 12, 2020
About the Author
Melanie Beals Goan is associate professor of history at the University of Kentucky specializing in women's history in the United States. She is the author of Mary Breckinridge: The Frontier Nursing Service and Rural Health in Appalachia. She lives in Lexington, Kentucky.