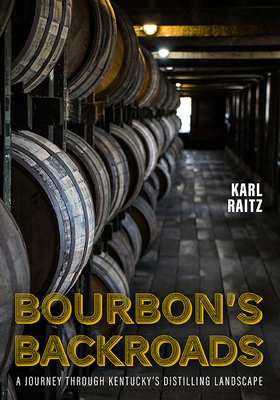 Bourbon's Backroads
A Journey Through Kentucky's Distilling Landscape
Paperback

* Individual store prices may vary.
Other Editions of This Title:
Hardcover (11/5/2019)
Description
Kentucky's landscape is punctuated by landmark structures that signpost bourbon's venerable story: distilleries long-standing, relict, razed, and brand new, the grand nineteenth-century homes of renowned distillers, villages and neighborhoods where distillery laborers lived, Whiskey Row storage warehouses, river landings and railroad yards, and factories where copper distilling vessels and charred white oak barrels are made. During the nineteenth century, distilling changed from an artisanal craft practiced by farmers and millers to a large-scale mechanized industry that practiced increasingly refined production techniques. Distillers often operated at comparatively remote sites -- along the "backroads" -- to take advantage of water sources or river or turnpike transport access. As time passed, steam power and mechanization freed the industry from its reliance on waterpower and permitted distillers to relocate to urban and rural rail-side sites. This shift also allowed distillers to perfect their production techniques, increase their capacity, and refine their marketing strategies. The historic progression produced the "fine" Kentucky bourbons that are available to present day consumers. Yet, distillers have not abandoned their cultural roots and traditions; their iconic products embrace the modern while also engaging their history and geography.
Blending several topics -- inventions and innovations in distilling and transport technologies, tax policy, geography, landscapes, and architecture -- this primer and geographical guide presents an accessible and detailed history of the development of Kentucky's distilling industry and explains how the industry continues to thrive.
University Press of Kentucky, 9780813182292, 216pp.
Publication Date: June 29, 2021
About the Author
Karl Raitz is professor emeritus of geography at the University of Kentucky and author of Making Bourbon. He is coeditor of The Great Valley Road of Virginia and coauthor of Rock Fences of the Bluegrass.