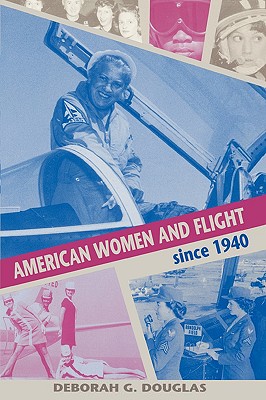 American Women and Flight Since 1940
Paperback

* Individual store prices may vary.
Description
Women run wind tunnel experiments, direct air traffic, and fabricate airplanes. American women have been involved with flight from the beginning, but until 1940, most people believed women could not fly, that Amelia Earhart was an exception to the rule. World War II changed everything. "It is on the record thatwomen can fly as well as men," stated General Henry H. Arnold, commanding general of the Army Air Forces. The question became "Should women fly?" Deborah G. Douglas tells the story of this ongoing debate and its impact on American history. From Jackie Cochran, whose perseverance led to the formation of the Women's Army Service Pilots (WASP) during World War II to the recent achievements of Jeannie Flynn, the Air Force's first woman fighter pilot and Eileen Collins, NASA's first woman shuttle commander, Douglas introduces a host of determined women who overcame prejudice and became military fliers, airline pilots, and air and space engineers. Not forgotten are stories of flight attendants, air traffic controllers, and mechanics. American Women and Flight since 1940 is a revised and expanded edition of a Smithsonian National Air and Space Museum reference work. Long considered the single best reference work in the field, this new edition contains extensive new illustrations and a comprehensive bibliography.
University Press of Kentucky, 9780813190730, 359pp.
Publication Date: January 16, 2004