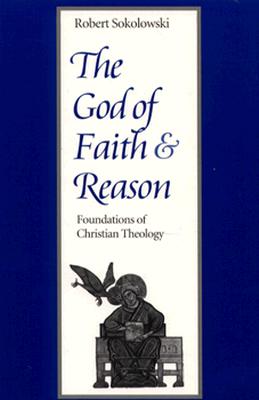 The God of Faith and Reason Foundations of Christian Theology
Paperback

* Individual store prices may vary.
Description
How is it that Christian faith can be said to be in accordance with reason and at the same time to transcend reason? On the one hand, the concordance of faith with reason appears to reduce faith to rational thinking and to natural human experience; on the other hand, the difference between faith and reason seems to make belief unreasonable and arbitrary. In The God of Faith and Reason, Robert Sokolowski treats this theological difficulty not by speaking directly about faith and reason, but through an examination of the Christian understanding of God that focuses on God the creator and the world as created. In so doing, he demonstrates how the Christian concept of God preserves both the integrity of reason and the distinctiveness of faith. Sokolowski begins with a statement of the Christian understanding of God developed in terms provided by St. Anselm, in whose writings the issue of faith and reason surfaces in an historically significant way. He next brings to light the special character of the Christian understanding of God by contrasting it with the pagan understanding of the divine. While pagan and other natural religions see god as the most powerful part of the world, Christianity understands God to be separate from the world, not added to in any way by the act of creating it. This understanding of God and the world lies behind the belief in Creation, and is shown to provide the context for the other Christian mysteries, such as the Incarnation, Redemption, the Church, grace, and the sacraments, especially the Eucharist. The author also shows how the Christian understanding of God and the world helps clarify the difference between natural human virtues and the theological virtues of faith, hope, and charity. In an appendix, he deals with the relationship between political philosophy and Christian revelation, and, through a discussion of the ideas of Leo Strauss, speaks of the place of politics and political reason in Christian belief. Throughout the book Sokolowski employs a method of theology based on phenomenology in order to show how the things of Christian faith differentiate themselves from the phenomena given to natural experience. With its insightful, straightforward arguments, The God of Faith and Reason is ideal for use in both introductory and advanced courses in natural theology, fundamental theology, Christian philosophy, philosophy of God, philosophy of religion, and metaphysics.
Catholic University of America Press, 9780813208275, 194pp.
Publication Date: January 1, 1995