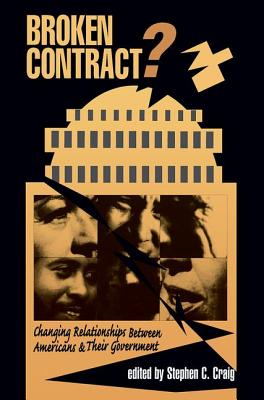 Broken Contract? (Paperback)
Changing Relationships Between Americans And Their Government (Transforming American Politics)
Routledge, 9780813322636, 348pp.
Publication Date: January 5, 1996
Other Editions of This Title:
Hardcover (8/28/2019)
* Individual store prices may vary.
Description
In 1992, it was Bill Clinton's New Covenant. In 1994, it was the Republicans' Contract with America. In 1996, it is likely to be a whole new set of circumstances. Nonetheless, one theme will prevail: Citizens and their government distrust one another, and it will take major changes on both sides to restore confidence in the relationship.Broken Contract? describes the elements of voter disaffection, party decline, mass mediation, social conflict, and government by referendum so prevalent in the politics of the 1990s. Original essays by leading scholars provide a unique perspective on what is happening today, how we arrived at this point, and what the future may hold if present trends continue. Highlights include innovative insights into the politics of disillusion along race, class, and gender lines; the ?Perot people? of '92, where they went in '94 and will go in '96; and ?talk-show democracy, ? from Larry King to Rush Limbaugh and the power of televangelism.Broken Contract? is a volume with a finger on the pulse of the temperament of the times. It demonstrates, in an engaging and accessible fashion, that the Contract with America is neither the first nor the last bargain to be struck with the American public in an effort to mend its broken trust.
About the Author
Stephen C. Craig is director of the Florida Institute for Research on Elections and professor of political science at the University of Florida.