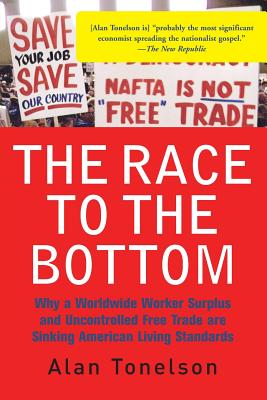 The Race To The Bottom
Why A Worldwide Worker Surplus And Uncontrolled Free Trade Are Sinking American Living Standards
Paperback

* Individual store prices may vary.
Description
With the end of the 1990s economic boom, The Race to the Bottom deftly explores how the United States has entered a no-win global competition in which the countries with the lowest wages, weakest workplace safety laws, and toughest repression of unions win investment from the U.S. and Europe. Tonelson analyzes how the entry of such population giants as China, India, and Mexico into the global market has accelerated the erosion of wages and labor standards around the world. And he describes how an ever-larger share of this low-wage competition is hitting not just sectors like apparel and toys, but also many of America's highest wage industries like aerospace and software. Tonelson explains why the re-education and retraining programs touted by many political leaders offer little but false hopes to most U.S. workers as he outlines the real decisions Washington needs to make to ensure long-term prosperity for the U.S. and the rest of the world. Updated with a new prologue from the author.
Basic Books, 9780813340241, 248pp.
Publication Date: August 31, 2002
About the Author
Described in the New Republic as "probably the most significant economist spreading the nationalist gospel," Alan Tonelson has been active in national trade politics for a decade. A Research Fellow at the United States Business and Industry Council, he lives in Washington, D.C.
or
Not Currently Available for Direct Purchase