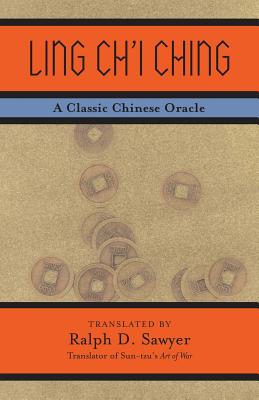 Ling Ch'i Ching
A Classic Chinese Oracle
Paperback

* Individual store prices may vary.
Description
The Ling Ch'I Ching was first created by an unknown Chinese scholar who consciously sought to present the world with a more accessible oracle than the esoteric I Ching. For centuries the Ling Ch'I Chinghas been a popular divination device for attaining self-knowledge and wisdom. Like its more famous cousin, the I Ching, the Ling Ch'I Chingis rich in poetic language and metaphorical imagery, linking the dynamic principles of heaven and earth with the affairs of people. But the Ling Ch'I Chingis far more accessible than the I Ching, focusing on the concerns of day-to-day life and positive accomplishment, with no "moving lines" to interpret. The method of consultation includes throwing twelve coins, which are then arranged in three rows to yield one of 125 possible trigraphs. In the text, each trigraph is represented by a core oracle describing a situation, problem, or event, and its internal dynamic, along with a verse emphasizing the trigraph's more subtle, intuitive qualities. To aid the reader in interpreting the oracle, selections from classical commentaries have been included, as well as the translators' own commentary on the text.
Basic Books, 9780813341743, 352pp.
Publication Date: September 22, 2004
About the Author
Ralph D. Sawyer, one of America's leading scholars in Chinese warfare, has worked extensively with major intelligence and defense agencies. After studying at MIT and Harvard and a brief stint of university teaching, Sawyer has spent the past thirty years lecturing and doing international consulting work focused on China.