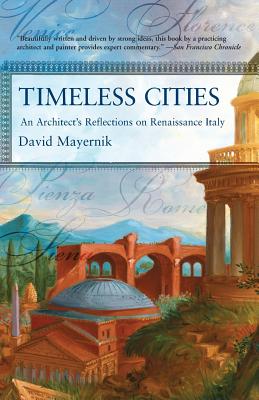 Timeless Cities (Paperback)
An Architect's Reflections on Renaissance Italy
Basic Books, 9780813342986, 288pp.
Publication Date: June 29, 2005
* Individual store prices may vary.
Description
For Italian city builders more than a thousand years ago, the urban realm was the great theater where their best aspirations were played out, the place where society said the most substantial things about who they were and what they longed for. In this masterful blend of art and cultural history, architect David Mayernik reveals how the very different cities of Venice, Rome, Florence, Siena, and Pienza were all literally designed to be both models of the mind and images of heaven. Mayernik takes the reader on a journey into the past in Timeless Cities, but he also explains why these city-building ideas remain relevant today. For those travelling on vacation or appreciating the art and architecture of Italy from home, Mayernik helps bring the wonder and beauty of the Renaissance mind a little closer.
About the Author
Named as one of the top forty architects of his generation in the United States, David Mayernik is an internationally recognized practicing architect, painter, and educator. In addition to having been Visiting Professor at the University of Notre Dame's School of Architecture, he has taught with the New York Academy of Art, the Institute for the Study of Classical Architecture, and the University of Virginia's Erasmus-Jefferson Scholars program in Tuscany. He is a Fellow of the American Academy in Rome.