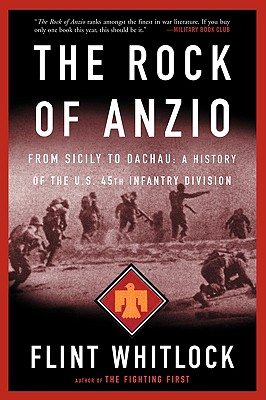 The Rock Of Anzio
From Sicily To Dachau, A History Of The U.S. 45th Infantry Division
Paperback

* Individual store prices may vary.
Description
Anzio was one of the greatest battles of World War II-a desperate gamble to land a large amphibious force behind German lines in Italy in the hope that the war could be shortened by capturing Rome. It also turned out to be one of the bloodiest battles in U.S. military history. Based on extensive research into archives, photos, letters, diaries, previously classified official records, and scores of personal interviews with surviving veterans of the 45th, The Rock of Anzio is written with an immediacy that puts the reader right onto the battlefield and shows us war through the eyes of ordinary men called upon to perform extraordinary deeds.
Basic Books, 9780813343013, 496pp.
Publication Date: March 30, 2005
About the Author
Flint Whitlock, a former U.S. Army officer and Vietnam War veteran, is the award-winning author of a dozen books and scores of magazine articles, most dealing with World War II. He has also appeared on History Channel, Fox News's War Stories with Oliver North, in numerous documentaries, and has been the editor of WWII Quarterly magazine since 2010.

He lectures across the country and frequently leads battlefield tours for the Smithsonian Institution, National Geographic Society, Minnesota World War II History Roundtable, Colorado National Guard, and other groups. He and his clinical psychologist wife, Dr. Mary Ann Watson, have three grown children and divide their time between Denver and Vail, Colorado.