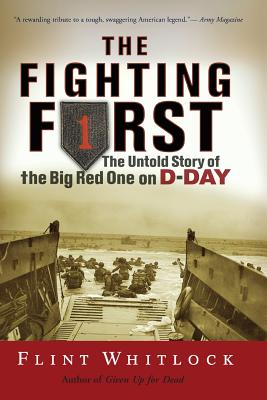 The Fighting First
The Untold Story Of The Big Red One on D-Day
Paperback

* Individual store prices may vary.
Description
The Fighting First tells the untold story of the 1st Infantry Division's part in the D-Day invasion of France at Normandy. Using a variety of primary sources, official records, interviews, and unpublished memoirs by the veterans themselves, author Flint Whitlock has crafted a riveting, gut-wrenching, personal story of courage under fire. Operation Overlord - the Allied invasion of Normandy on 6 June 1944 - was arguably the most important battle of World War II, and Omaha Beach was the hottest spot in the entire operation. Leading the amphibious assault on the "Easy Red" and "Fox Green" sectors of Omaha Beach was the U.S. Army's 1st Infantry Division - "The Big Red One" - a tough, swaggering outfit with a fine battle record. The saga of the Big Red One, however, did not end with the storming of the beachhead. The author concludes with an account of the 1st in their fight across France, Belgium, and into Germany itself, playing pivotal roles in the bloody battles for Aachen, the Huertgen Forest, and the Battle of the Bulge. The Fighting First is an inspiring, graphic, and often heartbreaking story of young American soldiers performing their D-Day missions with spirit, humor, and determination.
Basic Books, 9780813343174, 400pp.
Publication Date: June 10, 2005
About the Author
Flint Whitlock, a former U.S. Army officer and Vietnam War veteran, is the award-winning author of a dozen books and scores of magazine articles, most dealing with World War II. He has also appeared on History Channel, Fox News's War Stories with Oliver North, in numerous documentaries, and has been the editor of WWII Quarterly magazine since 2010.

He lectures across the country and frequently leads battlefield tours for the Smithsonian Institution, National Geographic Society, Minnesota World War II History Roundtable, Colorado National Guard, and other groups. He and his clinical psychologist wife, Dr. Mary Ann Watson, have three grown children and divide their time between Denver and Vail, Colorado.