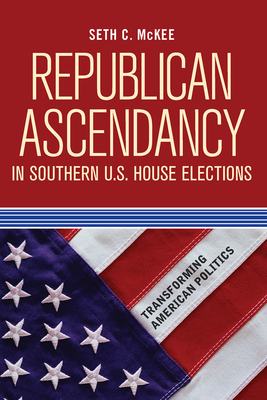 Republican Ascendancy in Southern U.S. House Elections (Transforming American Politics) (Paperback)
Westview Press, 9780813344072, 246pp.
Publication Date: August 13, 2009
Other Editions of This Title:
Hardcover (6/13/2019)
* Individual store prices may vary.
Description
Tremendous transformation marks the last three decades of American politics, and nowhere has this change been as distinctive and penetrating as in the American South. After 120 consecutive years of minority status, the rapid ascendancy of Southern House Republicans in the 1990s has reshaped the contours of contemporary American politics: increasing party polarization, making a Republican House majority possible, and, most recently, contributing to the revival of Democratic fortunes in national congressional elections. Southern Republican ascendancy constitutes an exemplar of party system change, made possible by three sequential factors: increasing Republican identification, redistricting, and the emergence of viable Republican candidates. Relying on existing and original data sources, this text presents the most recent example of large-scale partisan change. Beyond serving as a primer for the study of political parties, campaigns and elections, and Southern politics, Republican Ascendancy in Southern U.S. House Elections provides an original theoretical argument and an expansive view of why political change in the South has such strong implications for national politics.
About the Author
Seth C. McKee is assistant professor of political science at the University of South Florida at St. Petersburg. His PhD is from the University of Texas, Austin, and his expertise is in parties and election studies.
Praise For Republican Ascendancy in Southern U.S. House Elections (Transforming American Politics)…
"Seth McKee provides the most current understanding of the evolving partisan scene in Congress as his insightful analysis incorporates results through the 2008 elections. While the explanation for the GOP displacement of Democrats in the South's congressional delegations will be of especial interest to followers of southern politics, McKee's careful work will also appeal to a larger audience as he shows how the 'southernization' of the House Republican contingent helped the Democratic Party retake the chamber in 2006."—Charles S. Bullock, III, University of Georgia
"Seth McKee's book is a major scholarly achievement. It advances our understanding of both the modern South and the House of Representatives. After offering a convincing explanation for the Republican realignment in the South, McKee demonstrates how this development has helped Democrats regain control of the Congress. This insightful and well-written book should be of great interest to scholars and students of American politics."    —Merle Black, Emory University, coauthor of
Divided America: The Ferocious Power Struggle in American Politics
 "Seth McKee's
Republican Ascendancy in Southern U.S. House Elections
provides a thorough and lucid account of a crucial component, identified in the book's title, of the dramatic shift in regional party strength since the 1960s. It casts new light on this fundamental transformation and should be read by anyone who wants a deeper understanding of why and how it took place."—Gary C. Jacobson, University of California, San Diego "Seth McKee's
Republican Ascendancy in Southern U.S. House Elections
is a significant contribution to the literature on southern congressional politics. In well-organized and clearly-written chapters, McKee shows how the success of conservative southern Republicans has contributed to their party's failure in recent national elections. An impressively realistic book."—Earl Black, Rice University, coauthor of
Divided America: The Ferocious Power Struggle in American Politics
 "In his data-rich but accessible book, Seth McKee …make[s] a significant contribution to our understanding of the transformation of Southern politics and why partisan change occurs." –
Political Science Quarterly
"Republican Ascendency in Southern U.S. House Elections… succeeds in analyzing the general trends of Republican growth and is well grounded in the recent literature of southern politics… Mckee's work fills a niche in southern political studies." –The Journal of Southern History