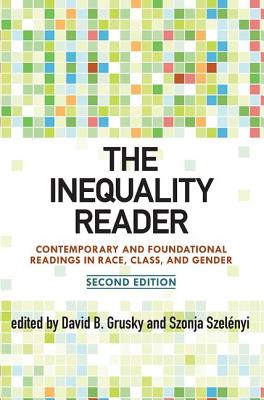 The Inequality Reader: Contemporary and Foundational Readings in Race, Class, and Gender (Paperback)
Contemporary and Foundational Readings in Race, Class, and Gender
Westview Press, 9780813344843, 784pp.
Publication Date: February 22, 2011
Description
Oriented toward the introductory student, The Inequality Reader is the essential textbook for today's undergraduate courses. The editors, David B. Grusky and Szonja Szelenyi, have assembled the most important classic and contemporary readings about how poverty and inequality are generated and how they might be reduced. With thirty new readings, the second edition provides new materials on anti-poverty policies as well as new qualitative readings that make the scholarship more alive, more accessible, and more relevant. Now more than ever, The Inequality Reader is the one-stop compendium of all the must-read pieces, simply the best available introduction to the stratifi cation canon.

About the Author
David B. Grusky is professor of sociology and director of the Center for the Study of Poverty and Inequality at Stanford University. His books include Social Stratification: Class, Race, and Gender in Sociological Perspective; Mobility and Inequality: Frontiers of Research in Sociology and Economics; and Poverty and Inequality. Szonja Szelenyi has taught at Stanford University, The University of Wisconsin, and Cornell University. She is the author of Equality by Design.
Praise For The Inequality Reader: Contemporary and Foundational Readings in Race, Class, and Gender…
Praise for the First Edition:"Grusky and Szelényi have compiled a comprehensive set of essential readings that introduce students to both classical sociological thinking and modern ideas about stratification. This is an excellent resource." —Lisa A. Keister, Professor of Sociology, Duke University "This is a beautifully designed resource for teachers and students.
The Inequality Reader
reveals not only the comprehensiveness and varieties of inequality, but the interconnectedness of its class-, race-, and gender-based dimensions. With superb selections and a state-of-the-art grasp of the issues, Grusky and Szelényi show us not only the contemporary depth and breadth of injustice, exclusion, and unfreedom, but also the links between inequality's past and present forms. Highly recommended." —Howard Winant, University of California, Santa Barbara, and author,
The World is a Ghetto; Race and Democracy since World War II
 "Twenty-first century America is characterized by growing inequality and this affects our entire society. This collection of readings documents, explains, and debates the causes and consequences of inequalities in race, class and gender. Grusky and Szelényi have chosen a rich mix of theoretical and empirical analyses of the most important issues of our time. It is indeed essential reading for anyone who cares about American society and democracy." —Mary C. Waters, Professor of Sociology, Harvard University
Advertisement