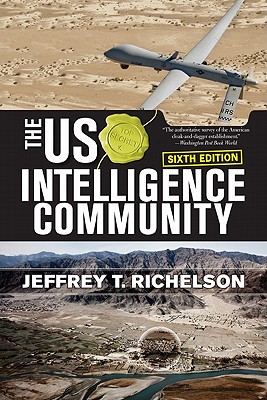 The US Intelligence Community (Paperback)
Westview Press, 9780813345116, 603pp.
Publication Date: July 26, 2011
* Individual store prices may vary.
or
Not Currently Available for Direct Purchase
Description
The role of intelligence in US government operations has changed dramatically and is now more critical than ever to domestic security and foreign policy. This authoritative and highly researched book provides a detailed overview of America's vast intelligence empireits organizations, its operations (from spies on the ground to satellites thousands of miles in space), and its management structure. Relying on a multitude of sources, including hundreds of official documents, author Jeffrey T. Richelson provides an up-to-date picture that will allow students to understand the full scope of the US intelligence community's organizations and activities and give valuable support to policymakers and military operations. Fully revised throughout, the sixth edition of this definitive text includes new material on intelligence organization, foreign and domestic intelligence collection and analysis, covert action, and cooperation with foreign intelligence services.

About the Author
Jeffrey T. Richelson received his PhD in political science from the University of Rochester and has taught at The University of Texas at Austin and American University, Washington, DC. A senior fellow at the National Security Archive in Washington, DC, Richelson has authored numerous works on intelligence, including A Century of Spies, The Wizards of Langley, and Spying on the Bomb.
Praise For The US Intelligence Community…
"This is an indispensable guide to a subject that has often been shielded by secrets and lies. Richelson brings order and clarity to the astounding complexity of US intelligence. Thoroughly researched and carefully documented, this volume is the best place to begin exploring the intelligence community as it exists today." —Steven Aftergood, Federation of American Scientists
"For years now, Jeff Richelson's The US Intelligence Community has been the go-to book for experts and laymen alike who want to know the latest about espionage organization and tradecraft in the United States. Now with his sixth edition of this classic work, he reaches new heights of excellence in research and presentation. No one has ferreted out the details of this subject better than Dr. Richelson."—Loch K. Johnson, Regents Professor, University of Georgia; Senior Editor, Intelligence & National Security 
Praise for Previous Editions:
 "The authoritative survey of the American cloak-and-dagger establishment."— Washington Post Book World "Fast as the CIA changes, Jeff Richelson is there with excellent sources and a solid grasp of the official terrain. The US Intelligence Community will be vital for any reader who wants to understand the evolution of American intelligence in the post-Cold War world."—John Prados, author of The Soviet Estimate and Presidents' Secret War "Jeffrey Richelson's new edition is still the best, most comprehensive overview of US intelligence. Required reading for anyone interested in what goes on behind America's cloaks and daggers."—David Wise, author of Nightmover: How Aldrich Ames Sold the CIA to the KGB for $4.6 Million "The authoritative bible on the modern American intelligence establishment."—Bob Woodward, author of Veil: The Secret Wars of the CIA, 1981-1987
Advertisement