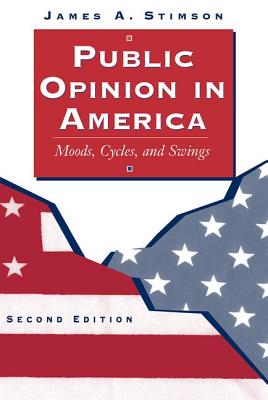 Public Opinion In America (Paperback)
Moods, Cycles, And Swings, Second Edition (Transforming American Politics)
Routledge, 9780813368900, 195pp.
Publication Date: January 6, 1999
Other Editions of This Title:
Hardcover (9/27/2019)
* Individual store prices may vary.
Description
Public opinion matters. It registers itself on the public consciousness, translates into politics and policy, and impels politicians to run for office and, once elected, to serve in particular ways.This is a book about opinion?not opinions. James Stimson takes the incremental, vacillating, time-trapped data points of public opinion surveys and transforms them into a conceptualization of public mood swings that can be measured and used to predict change, not just to describe it. To do so, he reaches far back in U.S. survey research and compiles the data in such a way as to allow the minutiae of attitudes toward abortion, gun control, and housing to dissolve into a portrait of national mood and change.Using sophisticated techniques of coding, statistics, and data equalization, the author has amassed an unrivaled database from which to extrapolate his findings. The results go a long way toward calibrating the folklore of political eras, and the cyclical patterns that emerge show not only the regulatory impulse of the 1960s and 1970s and the swing away from it in the 1980s; the cycles also show that we are in the midst of another major mood swing right now?what the author calls the ?unnoticed liberalism? of current American politics.Concise, suggestive, and eminently readable, Public Opinion in America is ideal for courses on public opinion, public policy, and methods, as well as for introductory courses in American government. Examples and illustrations abound, and appendixes document the measurement of policy mood from survey research marginals. This revised second edition includes updated data on public opinion and voters through the 1996 presidential election.
About the Author
James A. Stimson is Raymond Dawson Professor of Political Science at the University of North Carolina at Chapel Hill, and the author of numerous articles and essays of macro theory, political economy, voting behavior, and methodology. He coauthored, with Edward G. Carmines, Issue Evolution: Race and the Transformation of American Politics (1989).