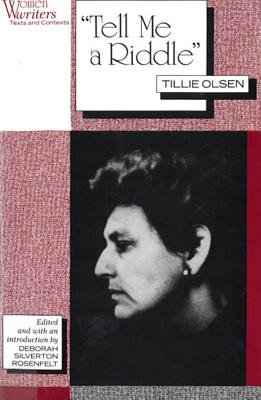 "Tell Me a Riddle"
Tillie Olsen (Women Writers: Texts and Contexts)
Paperback

* Individual store prices may vary.
Description
"Tell Me a Riddle" renders an unforgettable portrait of a working class couple when the gender determined differences in their experiences of poverty and familial life give rise to bitter conflict after almost four decades of marriage.  As she dies from cancer, Eva, the protagonist, recollects a revolutionary past that both critiques and offers hope for the present.  Deborah Rosenfelt's introduction and the essays in this volume survey the critical reception of this highly acclaimed story, analyze its biographical and historical contexts, examine the text's language, structure, spiritual and moral significance, and illuminate Olsen's relationship to the American midwest, the American left, and the Jewish enlightenment tradition.
This casebook includes an introduction by the editor, a chronology of Olsen's life, an authoritative text of "Tell Me a Riddle," relevant essays by Olsen, seven critical essays, and a bibliography.

The contributors are: Joanne Trautmann Banks, Constance Coiner, Rachel Blau Duplessis, Mara Faulkner, Elaine Orr, Linda Ray Pratt, and Deborah Silverton Rosenfelt.
Rutgers University Press, 9780813521374, 326pp.
Publication Date: May 1, 1995
About the Author
Deborah Silverton Rosenfelt is Professor of Women's Studies and Director of the Curriculum Transformation Project at the University of Maryland-College Park. She is editor and co-editor of a number of books, including Feminist Criticism and Social Change and Teaching Women's Literature from a Regional Perspective.