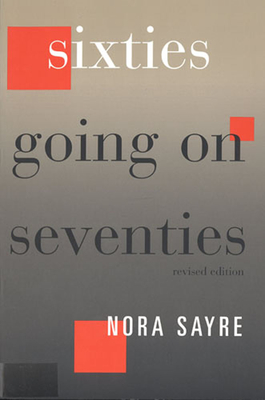 Sixties Going on Seventies
Paperback

* Individual store prices may vary.
Description
Nora Sayre guides us through our nation's transformation during an explosive decade. She explores the landscapes of the era--student strikes at Harvard and Yale, anti-war veterans, John Birchers, Timothy Leary, Yippies and Aquarians, utopias gone wrong, George McGovern, Spiro Agnew, Richard Nixon, George Wallace, black anger in Watts, the media at work, policemen in college, off-off Broadway, the 1972 Democratic and Republican Conventions, and the rebirth of feminism. Sixties Going on Seventies, nominated for a 1974 National Book Award, is also a chronicle of the shattering of cities, the problems of the left, the momentum of the right--and above all, the authentic voices of the people concerned. Sayre recorded all of these events and personalities in exhilarating prose; her witty observations are remarkably fresh today.

Now back in print, this revised edition contains the best of the original volume and brings the commentary up to date, allowing us to view the period with hindsight from the nineties.
Rutgers University Press, 9780813521930, 336pp.
Publication Date: May 1, 1996
About the Author
Nora Sayre, a former film critic for the New York Times, was the New York correspondent for the New Statesman from 1965 to 1970. Her articles, essays and reviews have also appeared in the New York Times Book Review, Esquire, The Progressive, and The Nation. She teaches at Columbia University and is the author of Running Time: Films of the Cold War and Previous Convictions: A Journey through the 1950s (forthcoming, Rutgers University Press).
or
Not Currently Available for Direct Purchase