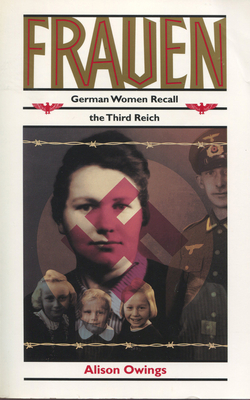 Frauen (Paperback)
German Women Recall the Third Reich
Rutgers University Press, 9780813522005, 536pp.
Publication Date: February 1, 1995
* Individual store prices may vary.
Description
What were the women of Germany doing during the Third Reich? What were they thinking? And what do they have to say a half century later? In Frauen we hear their voices--most for the first time. Alison Owings interviewed and here records the words of twenty-nine German women who were there: Working for the Resistance. Joining the Nazi Party. Outsmarting the Gestapo. Disliking a Jewish neighbor. Hiding a Jewish friend. Witnessing "Kristallnacht." Witnessing the firebombing of Dresden. Shooting at Allied planes. Welcoming Allied troops. Being a prisoner. And being a guard. The women recall their own and others' enthusiasm, doubt, fear, fury, cowardice, guilt, and anguish. Alison Owings, in her pursuit of such memories, was invited into the homes of these women. Because she is neither Jewish nor German, and because she speaks fluent colloquial German, many of the women she interviewed felt comfortable enough with her to unlock the past. What they have to say will surprise Americans, just as they surprised the women themselves.Not since Marcel Ophuls's controversial film The Sorrow and the Pity have we been on such intimate terms with "the enemy." In this case, the story is that of the women, those who did not make policy but were forced to participate in its effects and to witness its results. What they did and did not do is not just a reflection on them and their country--it also leads us to question what actions we might have taken in their place. The interviews do not allow for easy, smug answers.
About the Author
Alison Owings is a freelance journalist who has contributed regularly major television network news broadcasts. She is author of Indian Voices: Listening to Native Americans (Rutgers University Press, 2011) and Hey, Waitress!: The USA from the Other Side of the Tray.. She lives in the San Francisco Bay area with her husband.