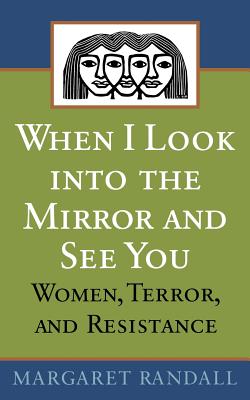 When I Look Into the Mirror and See You (Paperback)
Women, Terror, and Resistance
Rutgers University Press, 9780813531854, 216pp.
Publication Date: September 3, 2002
* Individual store prices may vary.
Description
"Randall, feminist author/biographer of Latin American revolutionary women, documents the extraordinary stories of Nora Miselem Rivera and Maria Suarez Toro, 'disappeared' by the Honduran military in 1982, and released. They are an eye-opening exception to the tragic numbers of permanently 'disappeared' Latin Americans. The book breaks the silences surrounding this event: first, the silences around Honduras's largely unexplored counterinsurgent past; second, the silencing by Central America's Left of women's progressive movements; and finally, the abusive silencing by these movements when the two denounced the gendered nature of their abductions. . . . Highly recommended."-Choice "This powerfully written book allows us to feel deeply the particular as well as the universal situation of women, their ways of survival and refusal to lose their vision of economic and social justice. An important contribution to the emerging field of women and human rights, and the intricate relations established between power and gender."-Margorie Agos n, editor of A Map of Hope: Women's Writing on Human Rights, An International Literary Anthology, and Women, Gender, and Human Rights: A Global Perspective In the early 1980s, in the midst of Central America's decades of dirty wars, Nora Miselem of Honduras and Maria Su rez Toro of Costa Rica were kidnapped, imprisoned, and subjected to rape and other tortures. Of the nearly two hundred disappeared persons in Honduras in those years, they are, remarkably, two of only five survivors. Fourteen years after their ordeal, Su rez and Miselem's chance meeting was witnessed by Margaret Randall and is now retold in When I Look into the Mirror and See You. Through direct testimony, vivid historical narrative, and evocative photographs, Randall brings us the terror, resistance, and survival of Su rez and Miselem. The book details the abuses suffered by them, the ruses they used to foil their captors, the support that they gave each other while incarcerated, the things they did to achieve their release, and their attempts to reconstruct their lives afterward. For the first time, Su rez and Miselem allowed themselves to explore the pain and trauma of their past. Randall has done the service of adding these remarkable voices to the global campaign to bring the world's attention to women's human rights. Margaret Randall is a well-known author and activist for women's rights, especially in regard to Latin America. She is the author of Sandino's Daughters and Sandino's Daughters Revisited (both Rutgers University Press). Her more recent titles include Coming Up for Air and Where They Left You for Dead/Halfway Home.