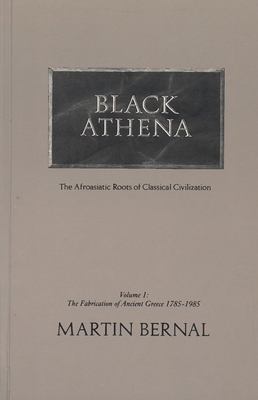 Black Athena (Hardcover)
Afroasiatic Roots of Classical Civilization; Volume III: The Linguistic Evidence
Rutgers University Press, 9780813536552, 848pp.
Publication Date: November 3, 2006
Other Editions of This Title:
Paperback (2/14/2020)
Paperback (2/14/2020)
Paperback (2/14/2020)
Paperback (2/14/2020)
Paperback (6/1/1991)
Hardcover (2/14/2020)
Hardcover (2/14/2020)
Hardcover (2/14/2020)
* Individual store prices may vary.
Description
Could Greek philosophy be rooted in Egyptian thought? Is it possible that the Pythagorean theory was conceived on the shores of the Nile and the Euphrates rather than in ancient Greece? Could it be that much of Western civilization was formed on the "Dark Continent"? For almost two centuries, Western scholars have given little credence to the possibility of such scenarios.
 In Black Athena, an audacious three-volume series that strikes at the heart of today's most heated culture wars, Martin Bernal challenges Eurocentric attitudes by calling into question two of the longest-established explanations for the origins of classical civilization. To use his terms, the Aryan Model, which is current today, claims that Greek culture arose as the result of the conquest from the north by Indo-European speakers, or "Aryans," of the native "pre-Hellenes." The Ancient Model, which was maintained in Classical Greece, held that the native population of Greece had initially been civilized by Egyptian and Phoenician colonists and that additional Near Eastern culture had been introduced to Greece by Greeks studying in Egypt and Southwest Asia. Moving beyond these prevailing models, Bernal proposes a Revised Ancient Model, which suggests that classical civilization in fact had deep roots in Afroasiatic cultures.
This long-awaited third and final volume of the series is concerned with the linguistic evidence that contradicts the Aryan Model of ancient Greece. Bernal shows how nearly 40 percent of the Greek vocabulary has been plausibly derived from two Afroasiatic languages—Ancient Egyptian and West Semitic. He also reveals how these derivations are not limited to matters of trade, but extended to the sophisticated language of politics, religion, and philosophy. This evidence, according to Bernal, greatly strengthens the hypothesis that in Greece an Indo-European–speaking population was culturally dominated by Ancient Egyptian and West Semitic speakers

Provocative, passionate, and colossal in scope, this volume caps a thoughtful rewriting of history that has been stirring academic and political controversy since the publication of the first volume.
About the Author
Martin Bernal (1937 - 2013) was Professor of Government and Near Eastern Studies at Cornell University. The first two volumes of Black Athena: The Afroasiatic Roots of Classical Civilization (I: The Fabrication of Ancient Greece, 1785-1985 and II: The Archaeological and Documentary Evidence) have been translated into German, Italian, Spanish, French, Swedish, Greek and Japanese. Black Athena won the American Book Award in 1990 from the Before Columbus Foundation.
or
Not Currently Available for Direct Purchase