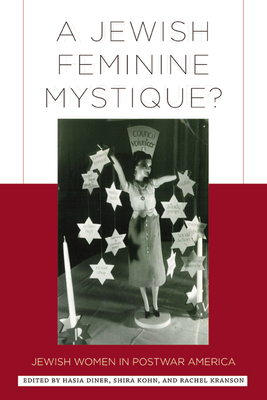 A Jewish Feminine Mystique?
Jewish Women in Postwar America
Paperback

* Individual store prices may vary.
Other Editions of This Title:
Hardcover (9/10/2010)
Description
In The Feminine Mystique, Jewish-raised Betty Friedan struck out against a postwar American culture that pressured women to play the role of subservient housewives. However, Friedan never acknowledged that many American women refused to retreat from public life during these years. Now, A Jewish Feminine Mystique? examines how Jewish women sought opportunities and created images that defied the stereotypes and prescriptive ideology of the "feminine mystique."

As workers with or without pay, social justice activists, community builders, entertainers, and businesswomen, most Jewish women championed responsibilities outside their homes. Jewishness played a role in shaping their choices, shattering Friedan's assumptions about how middle-class women lived in the postwar years. Focusing on ordinary Jewish women as well as prominent figures such as Judy Holliday, Jennie Grossinger, and Herman Wouk's fictional Marjorie Morningstar, leading scholars explore the wide canvas upon which American Jewish women made their mark after the Second World War.
Praise For A Jewish Feminine Mystique?: Jewish Women in Postwar America…
"A Jewish Feminine Mystique? succeeds admirably in expanding scholarship on postwar American Jewish women."

— Journal of American History

"Although no one volume can fill the 'gaping hole' in scholarship about Jewish women in the postwar years, the editors and contributors have made a valiant first effort. Recommended."

— Choice

"A fascinating anthology. For readers who relish the joy of reading Jewish and American history, this book will be a delight."

— Jewish Book World

"A Jewish Feminine Mystique? succeeds in describing the complex roles of Jewish women in the time of Betty Friedan and the rise of the second wave feminist movement in America. This book provides a rich chorus of voices, further proving that whatever the lives of Jewish women in the American postwar period were, they weren't simple."


— Lilith

"The essays in this fine collection help to revise our understanding of Jewish women and the feminine mystique. Jewish women were affected by the pervasive folk myths of the 1950s, but, like Friedan, they were hardly defined by the feminine mystique; they were too busy starting revolutions."

— Hadassah Magazine

"This engaging anthology presents a range of historical cases where the lives of Jewish women in postwar America diverged from the norm of the 1950s suburban housewife."
— Journal of American Ethnic History

"A marvelously fresh look at Jewish women in the post war period. This volume of collected essays deeply enriches our understanding of the varied experiences of Jewish women in the 1950s. Reading this volume will forever transform the way the reader thinks about Jewish women, female power, and the pervasive influence of gender."


— Shuly Schwartz
Rutgers University Press, 9780813547923, 284pp.
Publication Date: September 10, 2010
About the Author
HASIA R. DINER is the Paul S. and Sylvia Steinberg Professor of American Jewish History and director of the Goldstein-Goren Center for American Jewish History at New York University. She is the author of numerous volumes, including We Remember with Reverence and Love: American Jews and the Myth of Silence after the Holocaust, 1945–1962.
 SHIRA KOHN and RACHEL KRANSON are doctoral candidates in New York University's joint Ph.D. program in history and Hebrew and Judaic studies.