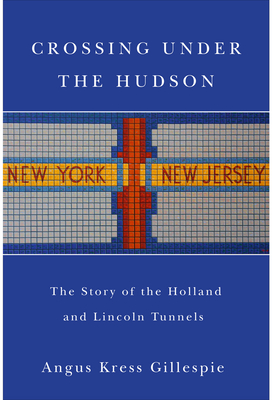 Crossing Under the Hudson (Hardcover)
The Story of the Holland and Lincoln Tunnels
Rutgers University Press, 9780813550039, 232pp.
Publication Date: October 16, 2011
* Individual store prices may vary.
Description
Crossing Under the Hudson takes a fresh look at the planning and construction of two key links in the transportation infrastructure of New York and New Jersey--the Holland and Lincoln Tunnels. Writing in an accessible style that incorporates historical accounts with a lively and entertaining approach, Angus Kress Gillespie explores these two monumental works of civil engineering and the public who embraced them. He describes and analyzes the building of the tunnels, introduces readers to the people who worked there--then and now--and places the structures into a meaningful cultural context with the music, art, literature, and motion pictures that these tunnels, engineering marvels of their day, have inspired over the years.
Today, when new concerns about global terrorism may trump bouts of simple tunnel tension, Gillespie's Crossing Under the Hudson continues to cast a light at the end of the Holland and Lincoln Tunnels.
About the Author
Angus Kress Gillespie teaches American Studies at Rutgers University in New Brunswick, New Jersey. A Fulbright professor and a New York Times best-selling author, he has written on subjects ranging from skyscrapers to superhighways. Gillespie is the author of Twin Towers and the coauthor of Looking for America on the New Jersey Turnpike (both Rutgers University Press).
Praise For Crossing Under the Hudson: The Story of the Holland and Lincoln Tunnels…
"Ellis Island, the Statue of Liberty, and the Holland Tunnell are all part of the Jersey City heritage that we share with the rest of America, so Gillespie's carefully researched book is a welcome addition to my library."
— Jeremiah T. Healy
"The success of the Holland and Lincoln Tunnel projects demanded marvels of technological prowess and near-miracles of political cooperation within the bi-state, ever-contentious confines of the Port of New York and New Jersey. Angus Kress Gillespie weaves this multi-layered story into a delightfully readable account; a remarkable feat of narrative engineering highlighting the author's trademark gifts of clarity, wit, precision, and an amazing gift for rendering highly technical processes into a most pleasurable experience of reading."
— James T. Fisher
"Most commuters who pass through the Holland and Lincoln Tunnels are oblivious to the endeavors of the sandhogs who built them. Gillespie's book is a well-rounded tribute to the hard-working, blue-collar men who built these engineering marvels.

"
— Thomas Kelly
"Rutgers' Angus Gillespie featured on PBS' 'Marvels.'" by Chris Jordan
— Asbury Park Press