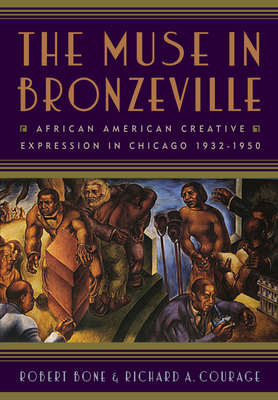 The Muse in Bronzeville (Paperback)
African American Creative Expression in Chicago, 1932-1950
Rutgers University Press, 9780813550442, 336pp.
Publication Date: September 27, 2011
Other Editions of This Title:
Hardcover (9/2/2011)
* Individual store prices may vary.
Description
The Muse in Bronzeville, a dynamic reappraisal of a neglected period in African American cultural history, is the first comprehensive critical study of the creative awakening that occurred on Chicago's South Side from the early 1930s to the cold war. Coming of age during the hard Depression years and in the wake of the Great Migration, this generation of Black creative artists produced works of literature, music, and visual art fully comparable in distinction and scope to the achievements of the Harlem Renaissance.
This highly informative and accessible work, enhanced with reproductions of paintings of the same period, examines Black Chicago's "Renaissance" through richly anecdotal profiles of such figures as Richard Wright, Gwendolyn Brooks, Margaret Walker, Charles White, Gordon Parks, Horace Cayton, Muddy Waters, Mahalia Jackson, and Katherine Dunham. Robert Bone and Richard A. Courage make a powerful case for moving Chicago's Bronzeville, long overshadowed by New York's Harlem, from a peripheral to a central position within African American and American studies.
Praise For The Muse in Bronzeville: African American Creative Expression in Chicago, 1932-1950…
"A sprawling and encyclopedia book. The Muse in Bronzeville argues with solid evidence for a complementary Chicago African American artistic and literary renaissance in the 1930s and 1940s."

— Journal of American History
"The Muse in Bronzeville presents a rich cultural feast of writers, poets, bluesmen, jazz musicians, painters, and sculptors. Supported by newspapermen, sociologists, and philanthropists, these Chicago 'New Negros' rivaled their Harlem counterparts."
— Patricia Hills
"Finally setting the record straight, the book brings to the forefront the cultural awakening of black consciousness exploding in the Midwest during the first half of the 20th-century. Bone and Courage masterfully blend the history of Chicago's South Side as the incubator of cultural expression and the black aesthetic in page-turning prose. The Muse in Bronzeville is a much-needed contribution."
— International Review of African American Art
"Bone and Courage offer not only an impressively astute and comprehensive explication of the historical, cultural, ideological, and foundational contours of the Chicago Renaissance, but also a discussion of the prominent figures and institutions that contributed to this black artistic flourishing in Chicago's South Side during the period from the 'great migration' through the post-WW II moment. Foregrounding the renaissance in Chicago, which has been largely neglected and overshadowed by the Harlem Renaissance, this study delineates continuities and discontinuities and significantly expands understanding of black artistic renaissances (generally as well as area specific) and of cultural and expressive traditions collectively in 20th-century America. Highly recommended."

— Choice
"A compelling book which will be a standard in its field for many years to come."

— Monthly Review
"The Muse in Bronzeville weaves together archival research, textual and visual analysis, cultural history, and biographical sketches, to survey the tangled histories of black migration, popular culture, visual arts, literature, performance, and social science. A valuable resource that is clearly written, engagingly detailed, and richly illustrated."

— Journal of Illinois History
"Richard Courage's monumental The Muse in Bronzeville completes Robert Bone's ambitious Chicago project and provides a shift of focus in African American literary scholarship. Chicago finally emerges as the vibrant counterpart of the Harlem Renaissance."
— David Levering Lewis
"Bone and Courage unveil the important differences between the black respectability and critique of black responsibility that shapes the Harlem Renaissance and the lack of any real investment in this issue in the less-elite Chicago Renaissance."
— American Literature