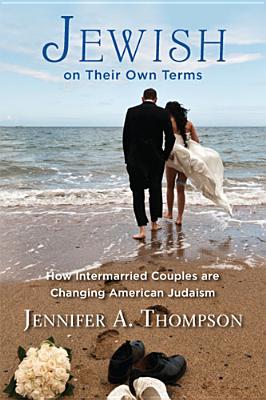 Jewish on Their Own Terms (Hardcover)
How Intermarried Couples are Changing American Judaism
Rutgers University Press, 9780813562827, 256pp.
Publication Date: December 19, 2013
Other Editions of This Title:
Paperback (12/19/2013)
* Individual store prices may vary.
Description
Over half of all American Jewish children are being raised by intermarried parents. This demographic group will have a tremendous impact on American Judaism as it is lived and practiced in the coming decades. To date, however, in both academic studies about Judaism and in the popular imagination, such children and their parents remain marginal.  
Jennifer A. Thompson takes a different approach. In Jewish on Their Own Terms, she tells the stories of intermarried couples, the rabbis and other Jewish educators who work with them, and the conflicting public conversations about intermarriage among American Jews. Thompson notes that in the dominant Jewish cultural narrative, intermarriage symbolizes individualism and assimilation. Talking about intermarriage allows American Jews to discuss their anxieties about remaining distinctively Jewish despite their success in assimilating into American culture.
In contrast, Thompson uses ethnography to describe the compelling concerns of all of these parties and places their anxieties firmly within the context of American religious culture and morality. She explains how American and traditional Jewish gender roles converge to put non-Jewish women in charge of raising Jewish children. Interfaith couples are like other Americans in often harboring contradictory notions of individual autonomy, universal religious truths, and obligations to family and history.
Focusing on the lived experiences of these families, Jewish on Their OwnTerms provides a complex and insightful portrait of intermarried couples and the new forms of American Judaism that they are constructing.
About the Author
JENNIFER A. THOMPSON is the Maurice Amado Assistant Professor of Applied Jewish Ethics and Civic Engagement in the Jewish Studies Interdisciplinary Program at California State University, Northridge.
Praise For Jewish on Their Own Terms: How Intermarried Couples are Changing American Judaism…
"Thompson's book is an original and powerfully suggestive intervention in the scholarship on intermarriage. Her argument is fresh and sound. She is particularly persuasive presenting her compelling ethnographic material." 
— Deborah Dash Moore
"Jewish on Their Own Terms challenges the prevailing intermarriage paradigm by examining the lived experience of intermarried couples and analyzing the meaning and impact of intermarriage discourse in the Jewish community." 
— Bruce Phillips
"Thompson explores the ways in which individuals and couples directly involved in and affected by intermarriage define themselves, their perspectives on their own Jewishness, and their attempts at juggling the larger questions of individualism and communal responsibilities. Recommended."

— Choice
"To read Thompson's work is to see clearly the imperative facing American Jewish institutions."
— H-Judaic