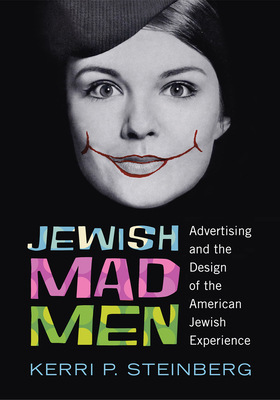 Jewish Mad Men (Paperback)
Advertising and the Design of the American Jewish Experience
Rutgers University Press, 9780813563756, 232pp.
Publication Date: February 16, 2015
Other Editions of This Title:
Hardcover (2/16/2015)
* Individual store prices may vary.
Description
It is easy to dismiss advertising as simply the background chatter of modern life, often annoying, sometimes hilarious, and ultimately meaningless. But Kerri P. Steinberg argues that a careful study of the history of advertising can reveal a wealth of insight into a culture. In 
Jewish Mad Men
, Steinberg looks specifically at how advertising helped shape the evolution of American Jewish life and culture over the past one hundred years.  
Drawing on case studies of famous advertising campaigns—from Levy's Rye Bread ("You don't have to be Jewish to love Levy's") to Hebrew National hot dogs ("We answer to a higher authority")—Steinberg examines advertisements from the late nineteenth-century in New York, the center of advertising in the United States, to trace changes in Jewish life there and across the entire country. She looks at ads aimed at the immigrant population, at suburbanites in midcentury, and at hipster and post-denominational Jews today. 
In addition to discussing campaigns for everything from Manischewitz wine to matzoh, Jewish Mad Men also portrays the legendary Jewish figures in advertising—like Albert Lasker and Bill Bernbach—and lesser known "Mad Men" like Joseph Jacobs, whose pioneering agency created the brilliantly successful Maxwell House Coffee Haggadah. Throughout, Steinberg uses the lens of advertising to illuminate the Jewish trajectory from outsider to insider, and the related arc of immigration, acculturation, upward mobility, and suburbanization.
Anchored in the illustrations, photographs, jingles, and taglines of advertising, Jewish Mad Men features a dozen color advertisements and many black-and-white images. Lively and insightful, this book offers a unique look at both advertising and Jewish life in the United States.
About the Author
KERRI P. STEINBERG is an associate professor of art history at the Otis College of Art and Design in Los Angeles.
Praise For Jewish Mad Men: Advertising and the Design of the American Jewish Experience…
"Steinberg explains in her informative Jewish Mad Men, an anti-Semitic climate existed in the advertising business even into the early 1960s. Jewish 'Mad Men' wrestled their way into mainstream firms, too, and became influential in imagining and promoting the American Dream and the Jewish American version. Although there was plenty of anti-Semitism in the so-called 'white shoe' ad world, this book is about the complexity of being Jewish and American in a field whose ultimate goal is to influence Americans' daily behavior. Steinberg effectively shows that when Jews became a consumer market, the advertising business realized it had to cater to them, forcing the creative demographic to change as well. Today's Madison Avenue is a mixed marriage, so that national ads do not focus on too many ethnic or religious distinctions. While that's great, it has rendered the brilliant, ethnically rooted ads, like Levy's, harder if not impossible to find."
— Steven Heller
"Even without the priming from popular culture, Steinberg's case for the importance of advertising as an indicator and shaper of the American Jewish experience is strong."
— AJS Review
"This book should appeal to readers interested in learning about advertising and Jewish life in the US."
— CHOICE
"Both provocative and entertaining, Jewish Mad Men is an insightful look into advertising and American Jewish life."
— Carol Leifer
"You don't have to be Jewish to appreciate this richly detailed account of the marketing and advertising of Jewish life. Steinberg documents how religious, cultural, and communal concerns all take shape in conversation with the commercial marketplace."
— Ari Y. Kelman
— NPR's "Weekend Edition Sunday"
or
Not Currently Available for Direct Purchase