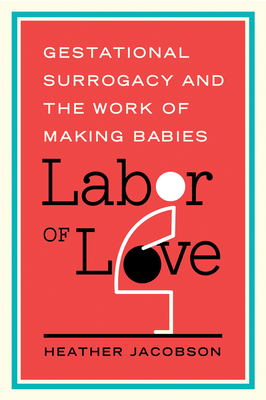 Labor of Love
Gestational Surrogacy and the Work of Making Babies (Families in Focus)
Paperback

* Individual store prices may vary.
Other Editions of This Title:
Hardcover (3/15/2016)
Description
While the practice of surrogacy has existed for millennia, new fertility technologies have allowed women to act as gestational surrogates, carrying children that are not genetically their own. While some women volunteer to act as gestational surrogates for friends or family members, others get paid for performing this service. The first ethnographic study of gestational surrogacy in the United States, Labor of Love examines the conflicted attitudes that emerge when the ostensibly priceless act of bringing a child into the world becomes a paid occupation.   Heather Jacobson interviews not only surrogate mothers, but also their family members, the intended parents who employ surrogates, and the various professionals who work to facilitate the process. Seeking to understand how gestational surrogates perceive their vocation, she discovers that many regard surrogacy as a calling, but are reluctant to describe it as a job. In the process, Jacobson dissects the complex set of social attitudes underlying this resistance toward conceiving of pregnancy as a form of employment.  Through her extensive field research, Jacobson gives readers a firsthand look at the many challenges faced by gestational surrogates, who deal with complicated medical procedures, delicate work-family balances, and tricky social dynamics. Yet Labor of Love also demonstrates the extent to which advances in reproductive technology are affecting all Americans, changing how we think about maternity, family, and the labor involved in giving birth. 

For more, visit http://www.heatherjacobsononline.com/ 
Praise For Labor of Love: Gestational Surrogacy and the Work of Making Babies (Families in Focus)…
"Labor of Love is a thorough, thoughtful, well-researched analysis of women's labor in the commercial gestational surrogacy market in the United States."
— Gender & Society

"Jacobson argues that Americans should be more accepting of gestational surrogacy and freely acknowledge its financial side.  She skillfully outlines the many ways in which the members of the US surrogacy community she interviewed deliberately obscure the financial aspects of surrogacy arrangements.  Reproductive endocrinologists, lawyers, surrogacy agency personnel, intended parents, and "surro-moms" and their families almost all push a narrative of altruism and the joys of pregnancy as the primary motivations of women who bear babies for genetically unrelated parents.  In fact, Jacobson argues, surrogacy is made "culturally palatable" in the US precisely because of the unwritten "money rules" that require the use of intermediaries to create distance between surro-moms and the sordidly financial... Recommended."
— Choice

"Labor of Love beautifully illuminates the work of surrogacy, exploring a world in which women have children for other women. Jacobson skillfully interweaves stories of actual participants with commentary and analysis, providing original insights into the complexities of reproduction."
— Naomi Cahn

"Labor of Love is an engaging and well-researched study of contemporary surrogacy in the U.S. Jacobson thoughtfully exposes the contradictions surrogates navigate as they downplay the commercial aspects of the transactions and obscure the labor involved in being a surrogate."
— Susan Markens

"Jacobson's rich qualitative data about the surrogacy market's inner workings make Labor of Love an informative and engaging read."
— Alicia Vande Vusse
Rutgers University Press, 9780813569505, 218pp.
Publication Date: March 15, 2016
About the Author
HEATHER JACOBSON is an associate professor of sociology at the University of Texas at Arlington. She is the author of Culture Keeping: White Mothers, International Adoption, and the Negotiation of Family Difference.   
or
Not Currently Available for Direct Purchase