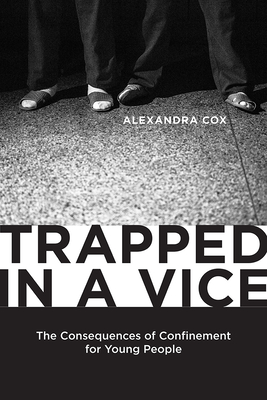 Trapped in a Vice (Paperback)
The Consequences of Confinement for Young People (Critical Issues in Crime and Society)
Rutgers University Press, 9780813570464, 234pp.
Publication Date: January 30, 2018
Other Editions of This Title:
Hardcover (1/30/2018)
* Individual store prices may vary.
Description
Trapped in a Vice explores the consequences of a juvenile justice system that is aimed at promoting change in the lives of young people, yet ultimately relies upon tools and strategies that enmesh them in a system that they struggle to move beyond. The system, rather than the crimes themselves, is the vice. Trapped in a Vice explores the lives of the young people and adults in the criminal justice system, revealing the ways that they struggle to manage the expectations of that system; these stories from the ground level of the justice system demonstrate the complex exchange of policy and practice.  
About the Author
ALEXANDRA COX is a lecturer in sociology at the University of Essex in Colchester, England.  
Praise For Trapped in a Vice: The Consequences of Confinement for Young People (Critical Issues in Crime and Society)…
— Jamie Fader
— Laura Abrams
— Reginald Dwayne Betts
— Gates Cambridge
— JJIE.org
— NYN Media
— The Page 99 Test
— Campaign for the American Reader
— Adirondack Daily Enterprise
— Critical Criminology
— Press Republican
— Adirondack Daily Enterprise
— New Books in Sociology Podcast
— Sun Community News
— Lake Placid News
— Black and Highly Dangerous Podcasr
"An insightful, original examination, rich with details of the often confounding details of troubled young peoples' lives, of the challenges and difficulties of constructively intervening in these lives."
— Journal of Community Corrections
— Jacobin
— The Elm
— Abolition
"Written in an accessible, graceful style, and grounded in rich, hard-won data from the ground-level, Trapped in a Vice will be of great interest to a wide-range of punishment and society scholars, and it is required reading for juvenile justice researchers, policy makers, and advocates for reform."
— Crime and Punishment
— The Howard Journal of Crime and Justice
— Journal of Youth and Adolescence
"This book is an extraordinary piece of social science research." 
— American Journal of Sociology
"[Cox] applies a strong sociological viewpoint, rooted in Foucault, to the story of juvenile justice-a view that is lacking in other texts. This theoretical strength comes through in how Cox relates her rich stories to larger discourses of neo-liberal control. Importantly, Cox addresses racial disparities head on as part of the larger picture of who is seen as 'worthy' and redeemable and who it not....[The book] is an important piece to read and ponder in the current wave of reform."
— Social Forces
"A beautifully crafted book."
— Social Justice
"Trapped in a Vice is likely to be of interest to a number of audiences. Students and scholars of juvenile justice, the sociology of punishment, youth, and inequality will appreciate the deeply human stories of the youth trapped in this system."
— Theoretical Criminology