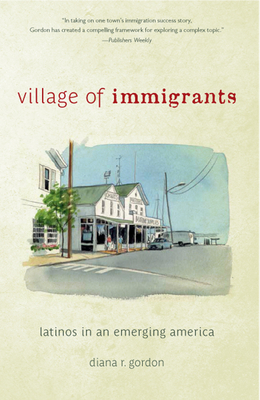 Village of Immigrants
Latinos in an Emerging America (Rivergate Regionals Collection)
Hardcover

* Individual store prices may vary.
Other Editions of This Title:
Paperback (7/15/2018)
Description
Greenport, New York, a village on the North Fork of Long Island, has become an exemplar of a little-noted national trend—immigrants spreading beyond the big coastal cities, driving much of rural population growth nationally. In Village of Immigrants, Diana R. Gordon illustrates how small-town America has been revitalized by the arrival of these immigrants in Greenport, where she lives.
 
Greenport today boasts a population that is one-third Hispanic. Gordon contends that these immigrants have effectively saved the town's economy by taking low-skill jobs, increasing the tax base, filling local schools, and patronizing local businesses. Greenport's seaside beauty still attracts summer tourists, but it is only with the support of the local Latino workforce that elegant restaurants and bed-and-breakfasts are able to serve these visitors. For Gordon the picture is complex, because the wave of immigrants also presents the town with challenges to its services and institutions. Gordon's portraits of local immigrants capture the positive and the negative, with a cast of characters ranging from a Guatemalan mother of three, including one child who is profoundly disabled, to a Colombian house painter with a successful business who cannot become licensed because he remains undocumented. Village of Immigrants weaves together these people's stories, fears, and dreams to reveal an environment plagued by threats of deportation, debts owed to coyotes, low wages, and the other bleak realities that shape the immigrant experience—even in the charming seaport town of Greenport.
 
A timely contribution to the national dialogue on immigration, Gordon's book shows the pivotal role the American small town plays in the ongoing American immigrant story—as well as how this booming population is shaping and reviving rural communities. 
Praise For Village of Immigrants: Latinos in an Emerging America (Rivergate Regionals Collection)…
"In taking on one town's immigration success story, Gordon has created a compelling framework for exploring a complex topic."
— Publishers Weekly

"Following an in-depth examination of immigration history in Greenport, from early whaling communities to the impact of Italian immigrant brick workers and beyond, Gordon investigates large-concept issues such as challenges facing immigrant children in the educational system, restrictions and inequalities in immigrant housing, labor rights for immigrant workers, and more ... Concise and accessible, this work is recommended for readers interested in immigrant concerns and their impact on American history, economy, and culture."
— Library Journal

"[A] lively and valuable contribution … thorough but not pedantic, granual at times, sweeping at others, and, at its core, a personal story."
— The East Hampton Star

"A worthwhile addition to any East End bookshelf."
— East End Beacon

"Diana Gordon does a good job bringing these immigrants to life, giving them a voice. By showing that they struggle to learn the language, get by in school, and find meaningful employment; they are trying to make the American dream happen. But as with all stories of immigrants there are those that do not want them around, and Mrs. Gordon does a good job showing that they exist as well." 5 star review
— San Diego Book Review

"Village of Immigrants: Latinos in an Emerging America documents a U.S. trend of immigrants spreading beyond coastal cities into the rest of the country, and narrows the example to Greenport, New York, a village on Long Island which has seen many changes from an influx of Latinos. The author lives in this small town and so is in the perfect position to observe its evolution: chapters discuss taxes, schools, jobs, and local business evolution, showing how the influx has revitalized the town's entire structure and led to growth and positive results. Highly recommended."
— California Bookwatch, Midwest Book Review

"This beautifully written book tells what happens when small town America meets contemporary Latino immigration, an inspiring, yet also heartbreaking encounter between the American dream and the American dilemma.  A compelling account and a deeply satisfying read."
— Roger Waldinger
Rutgers University Press, 9780813575902, 256pp.
Publication Date: November 6, 2015
About the Author
DIANA R. GORDON is professor emerita of political science and criminal justice at the City University of New York. She is the author of several books including Transformation and Trouble: Crime, Justice and Participation in Democratic South Africa.
 
or
Not Currently Available for Direct Purchase